If you're looking for a Peter Lik alternative you probably have run across one of Peter Lik's galleries but found the price a bit outside of your budget. While I'm not Peter Lik, nor I'm affiliated or endorsed by him, I have decided to help you find more affordable art. The original limited edition art you're after is finished in acrylic face mount technique and in a premium framing package. It can also be offered in a frame-less museum mount style.
I was making acrylic mounted prints for the past decade and learned few things about the process, display properties, longevity, and many other aspects of this type of art. In my opinion acrylic face-mount is the ultimate finishing style for fine art photography. Once I saw what difference the presentation can make in the way people perceive the artwork I never looked back to traditional print methods.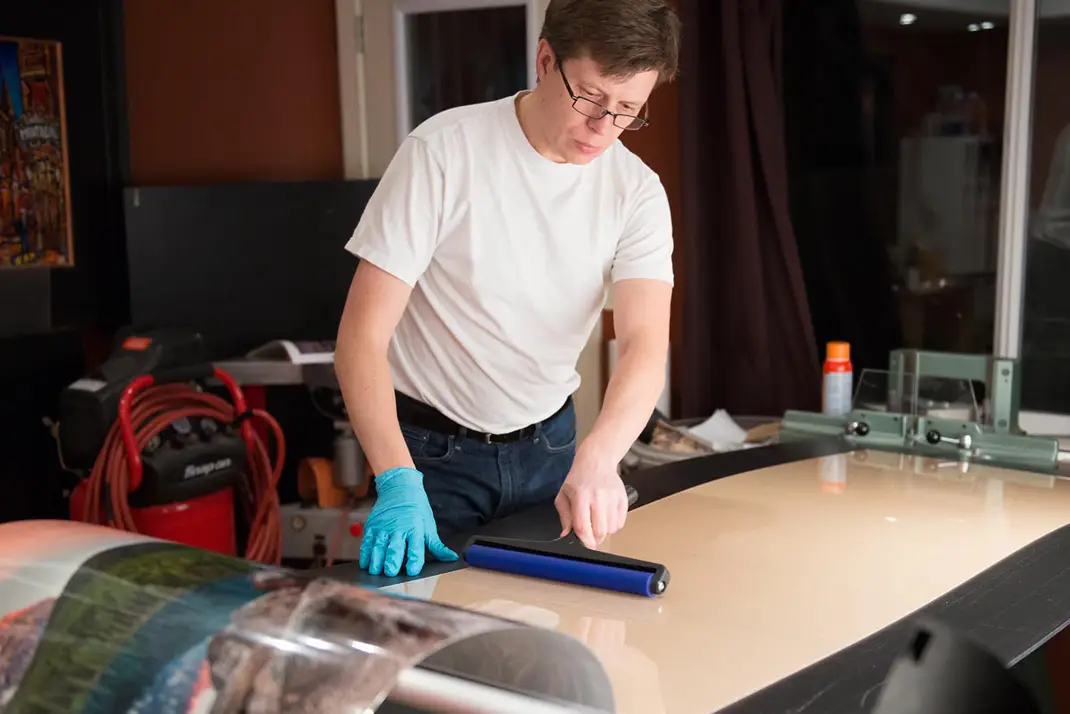 For a while, I didn't have a chance to properly inspect Peter Lik's print in person outside of what I saw at his galleries. Until a client of mine asked me to frame a print he bought on the second-hand market. He sent me the print and I had an opportunity to inspect it up close. I was pleased to see that the general look and feel of the print were very similar to what I was producing with exception of backing material. I frequently use composite board while Peter Liks prints are sandwiched between two layers of acrylic. The print I had in my hands had what looked like a 3 mm thick front layer and a 1 mm thick backing.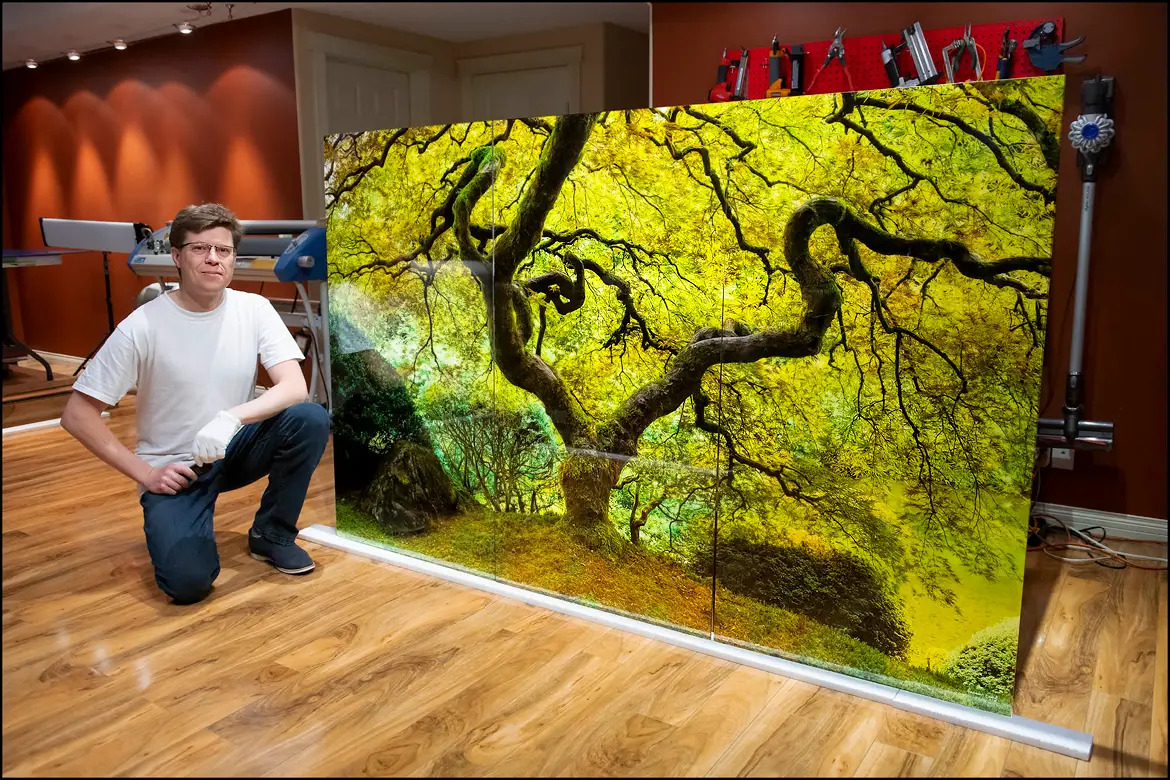 What is Acrylic Facemount?
Facemount is a production and presentation method for graphics art, mostly photography. The photographic print is being permanently sandwiched with the print face adhering to the acrylic panel and the back of the print is glued to either one of a number of rigid composites, such as Sintra, FoamCore, Dibond, or another sheet of acrylic.
For me, the selection of the backing usually depends on the size of the print. For larger pieces, I almost exclusively use composite panels. I chose them for their rigid properties which allow me to avoid deformations during mounting and float-mount application. For smaller pieces, I often use acrylic which is lighter and have an attractive translucent edge.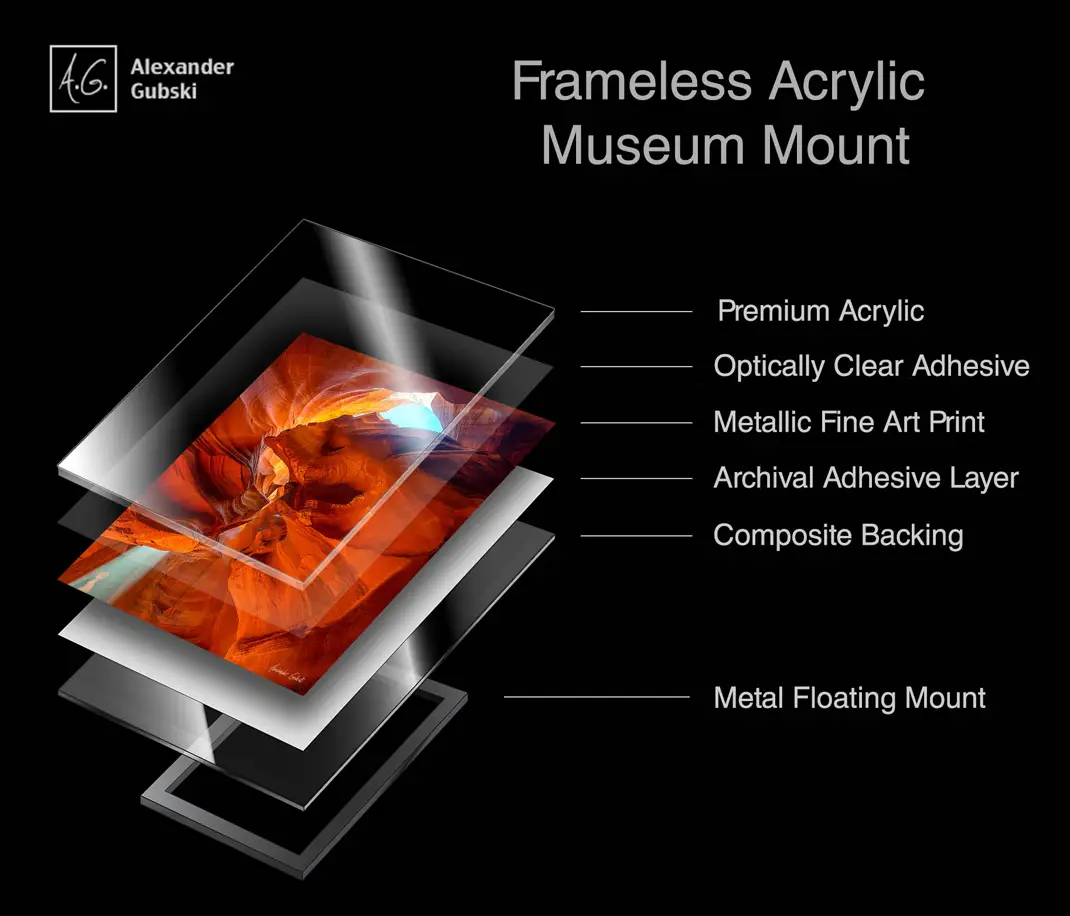 The resulting package is super flat, especially comparing to free-floating prints mounted under the glass, which can deform and warp with humidity. Clarity and vibrance is another key characteristic that multiplies the key traits of a photographic print making it a true piece of art.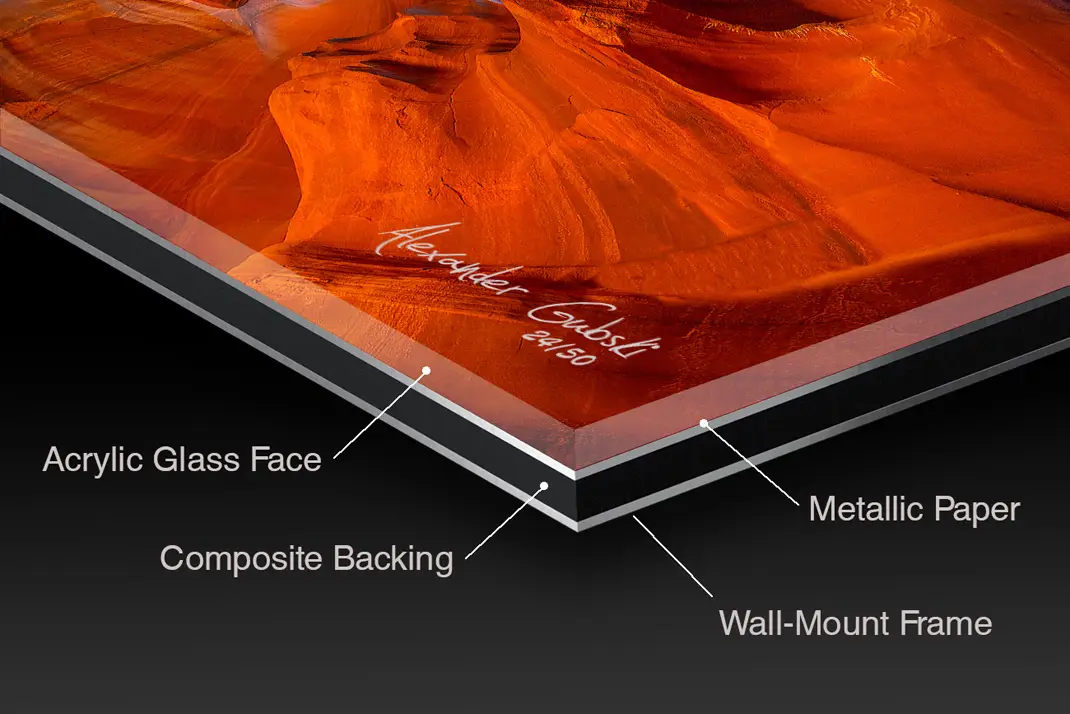 Acrylic Printing vs. Acrylic Face Mounting
Some shops offer acrylic prints that are not the same as acrylic face-mounted pieces. The acrylic prints are made by printing directly on an acrylic panel using specialized solvent-based inks. While at the first glance such prints may look similar and even offer a cost incentive you will quickly realize their disadvantages. To see the difference you shall see them displayed next to a metallic media face-mounted print. The metallic papers carry tiny metal particles infused into the surface of the paper. Those particles increase the reflectivity of the images printed on them creating a so-called backlit effect.
Does Peter Lik Alternative mean a copycat?
Not at all. Today quite a few photographers offer their work in acrylic mounted style. As for myself, all my images are original works of my authorship. I have few photographs of well-known landmarks which recently turned into photographer's places of worship. Peter Lik of course has his own take on those. Such are the lavender fields of French Rivera
or Mesa Arch in Utah.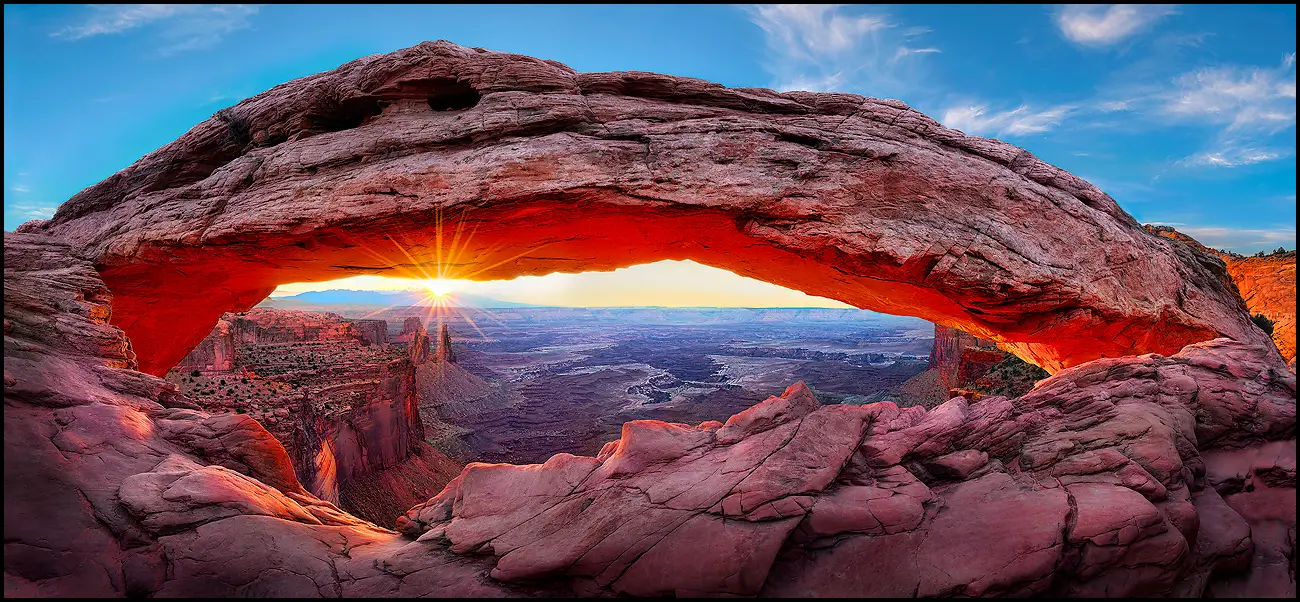 I also have lots of original subjects with nothing similar in anyone's collection and which deserved the attention of art lovers all over the world.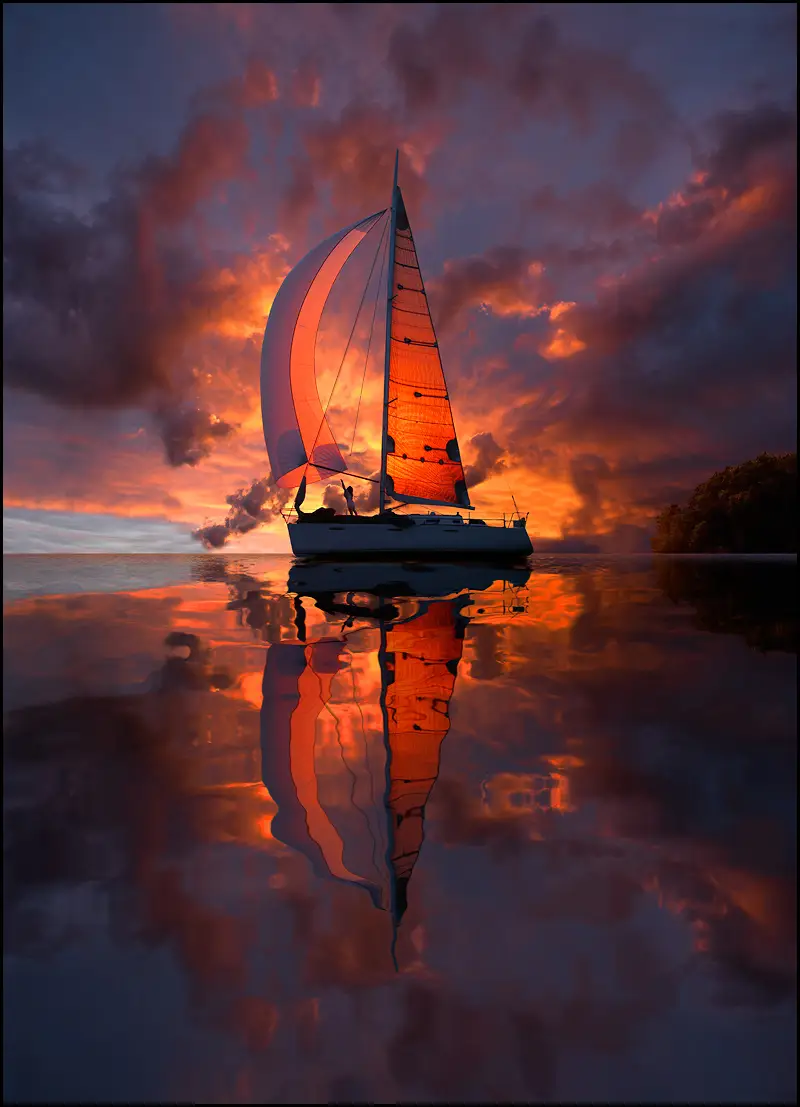 Comparing Alternatives to Peter Lik Photography
Let's discuss prices. Currently, there are numerous high-volume print shops around the country and overseas that offer acrylic mounted print service to anyone. There is also a number of talented photographers that offer their work through those shops. So, the resulting prints are in every way very similar in finish and style to those you see in Peter Lik galleries. The finishing technique is not cheap and you're still looking to spend $3000 to $5000 for a large framed print.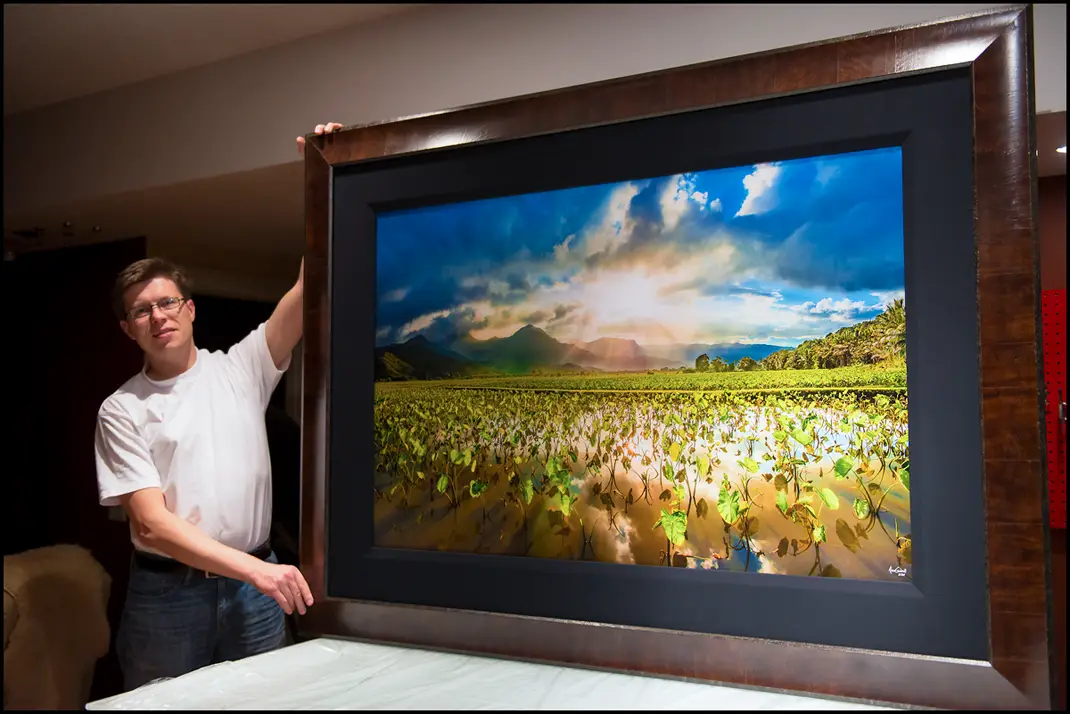 These prices come close to what is available through Peter Lik galleries but are often still a bit more affordable.
I have tried going this route too and eventually decided that I can offer better value to my clients by carrying out all tasks by myself. This way I can assure personal attention, quick fulfillment time, and a piece of mind of knowing how the print looks before I pack it for shipment.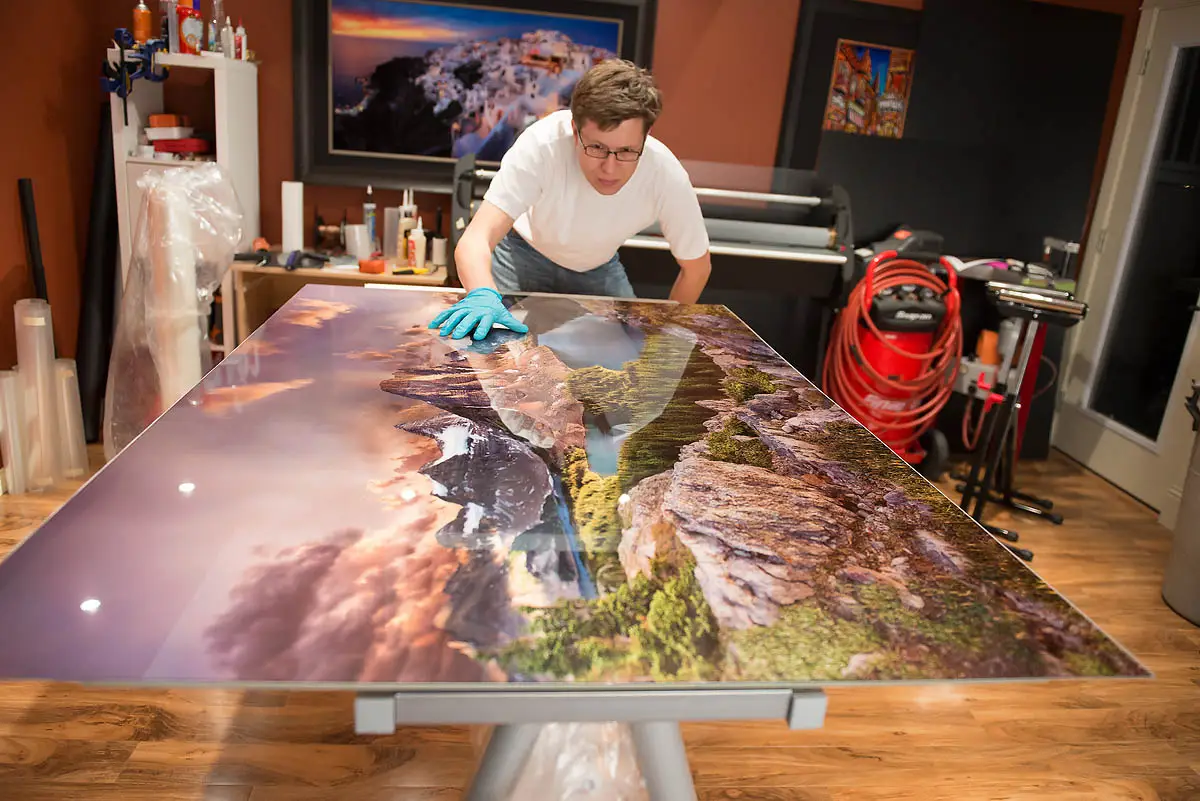 So, just to compare prices and lead times. I have assembled some average prices for a limited edition fine art print framed in linen-wrapped liner and premium frame. All price samples were taken at the time of writing.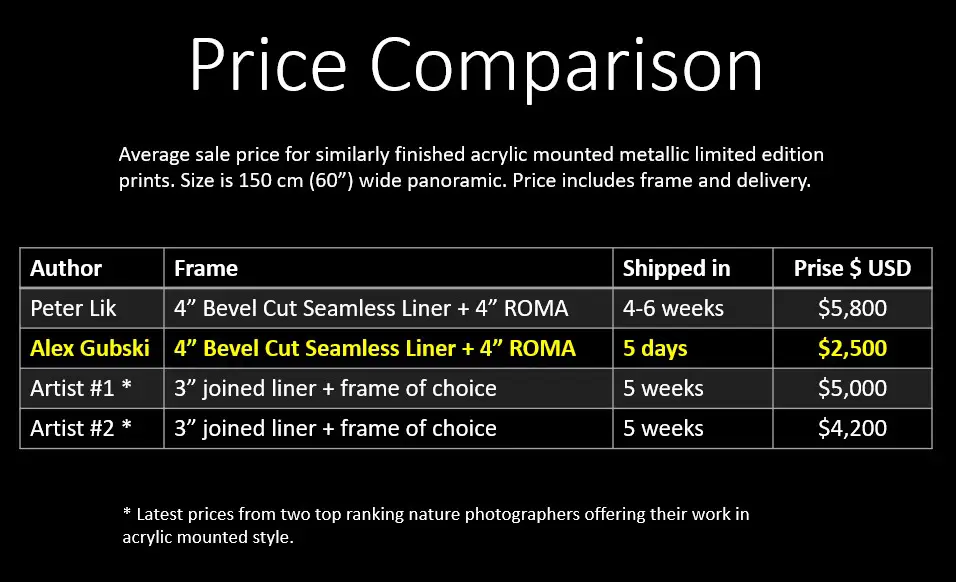 As you can see I offer expedited production of your order which is on average ships within 5 business days and at an unbeatable price.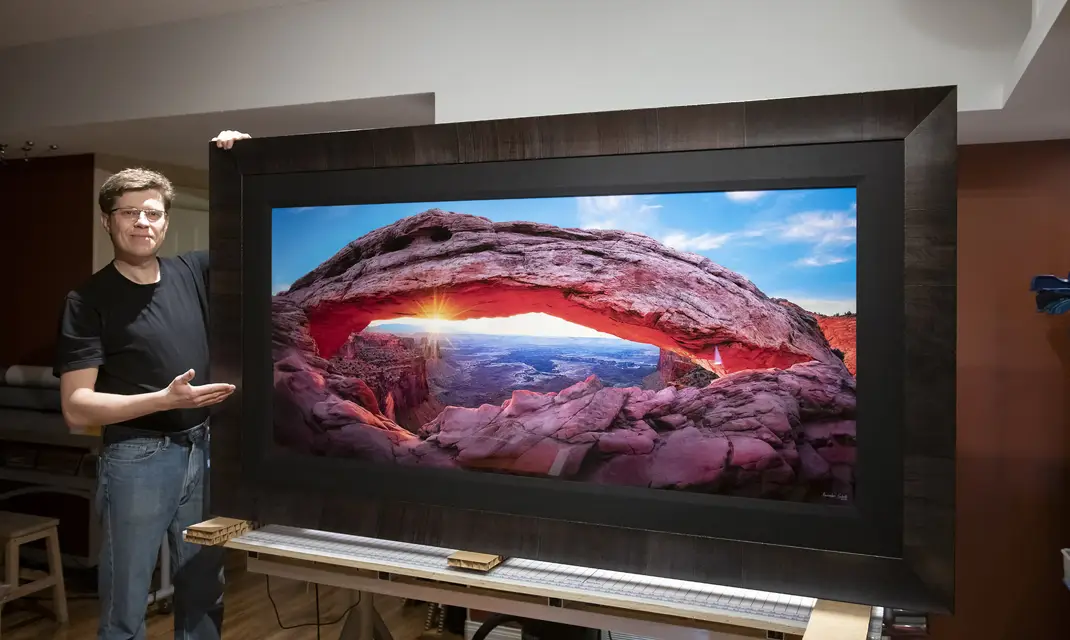 Additionally, while most commercial nature photographers including Peter Lik rarely see the prints they sell which are handled by the printing team of a specialized production facility. I handle each and every step of the production process from color correction to printing, mounting, framing, and building the crate for your artwork to safely travel to its final destination.
Conclusion
Some of Peter Lik collectors are also clients of mine and I was pleased to hear them speak very highly about the quality and visual appeal of my work. I work alone and can afford to sell my prints at a lower price comparing to most galleries selling similar art. I also make them with lower print runs with some title editions as low as 25 copies.

If you're on the market for stunning original photography art you shall definitely consider all leading and upcoming artists in the field you can find. In case you like a particular Peter Lik's image but are on a limited budget, I would recommend looking at the secondary market and be prepared to take what's available in terms of size and finish. And finally, if money is not a factor, buy what you love and never look back.
Non-Affiliation Disclaimer
Alexander Gubski Photography is an independent business. Alexander Gubski is not affiliated, associated, authorized, endorsed by, or in any way officially connected with Peter Lik or the other owners of respective brands mentioned on this website. As well as with any of their subsidiaries or their affiliates. All brand names, as well as any related names, marks, emblems, and images, are registered trademarks of their respective owners. These trademark holders do not sponsor or endorse Alex Gubski Photography or any of its products or comments.