Welcome to FAQ – Alexander Gubski Fine Art Prints page, where I hope to answer any queries you might have about purchasing my fine art photography. In particular, this section provides information on my premium acrylic-mounted prints — a stunning display option that brings life and depth to my carefully curated images. If you have additional questions after reviewing this FAQ, please feel free to contact me. I'm here to ensure your experience with my fine art photography is as enjoyable and straightforward as possible.
1. What purchasing options are available?
You can purchase my fine art photographs in a variety of formats. I offer unmounted prints, premium acrylic-mounted prints, and museum-quality fully framed pieces. Each product comes in several sizes to accommodate your space and display preferences.
2. Do your prints appear backlit?
While our acrylic-mounted prints have a unique depth and vibrancy that may give the impression of being backlit, they do not actually contain any internal light source. The brilliance and luminosity of these prints come from the high-quality photo paper and the face-mounting process onto clear acrylic, which enhances the colour, depth, and clarity of the image. However, when properly lit with external lighting, these prints can appear to glow, further enhancing the visual impact of the artwork.
3. Are your prints similar to Peter Lik's?
Peter Lik is a renowned landscape photographer known for his stunning and vibrant imagery. He often presents it in large-format, acrylic-mounted prints. While my printing process and presentation are similar, the artwork itself is unique, each piece reflecting my personal style, perspective, and interpretation of the scene. I produce high-quality, professional-grade fine art photography that I believe stands on its own merit. I share a similar commitment to quality, craftsmanship, and the celebration of the beauty of our world through the medium of photography.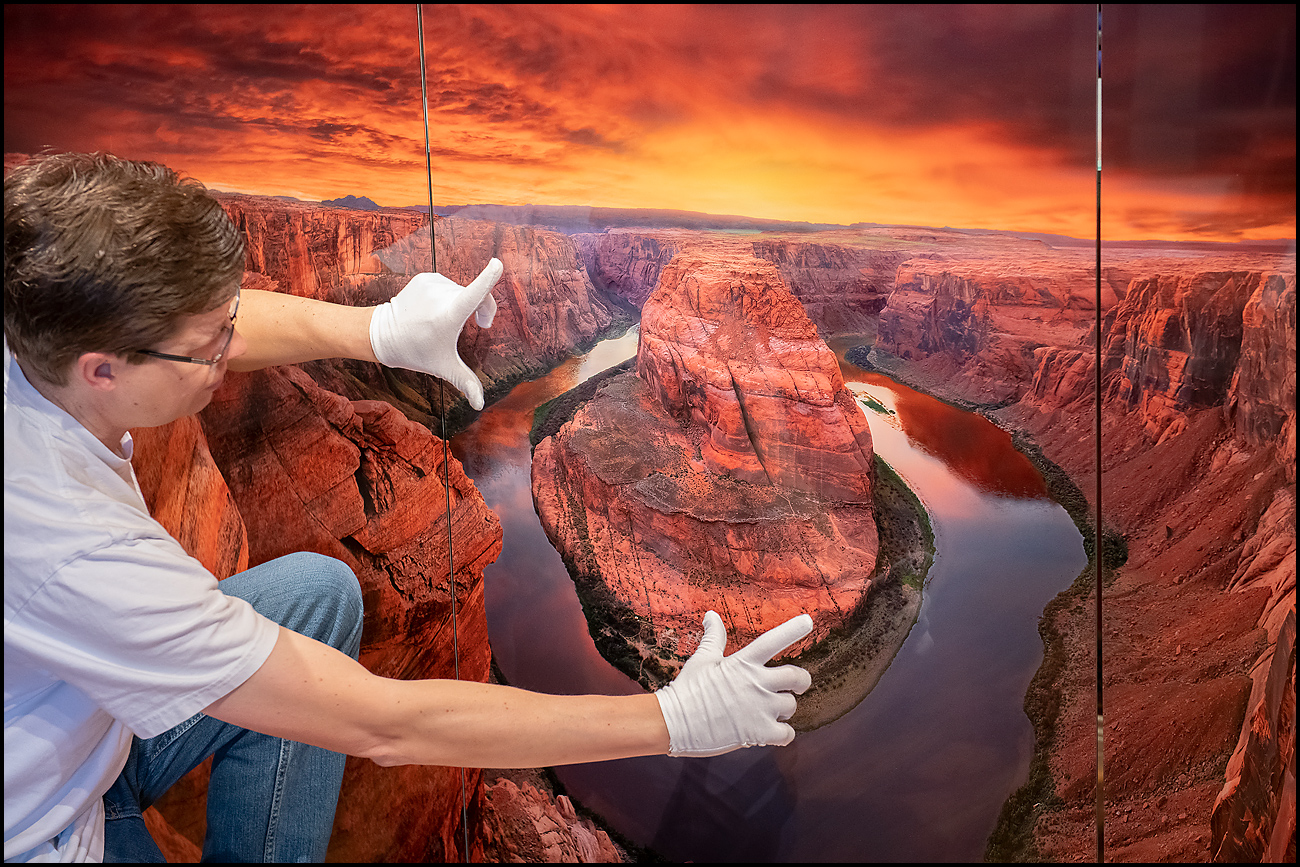 4. What are acrylic-mounted prints?
Acrylic-mounted prints are high-quality photo prints sandwiched between a clear acrylic front panel and a protective backing sheet. The image gets extra depth and radiance when you observe it through the acrylic panel. This format is particularly suitable for vibrant colour photography and works that benefit from additional luminosity.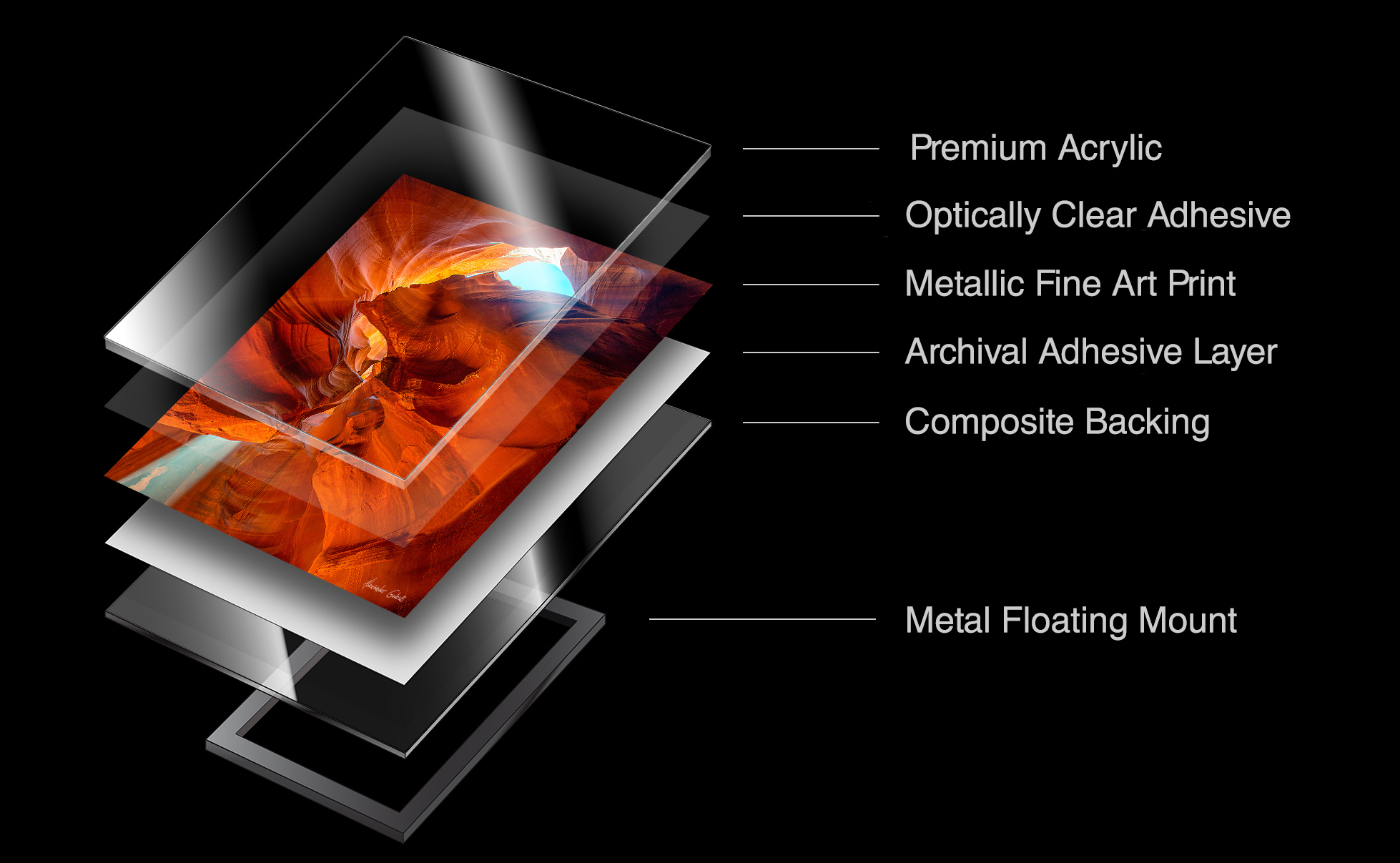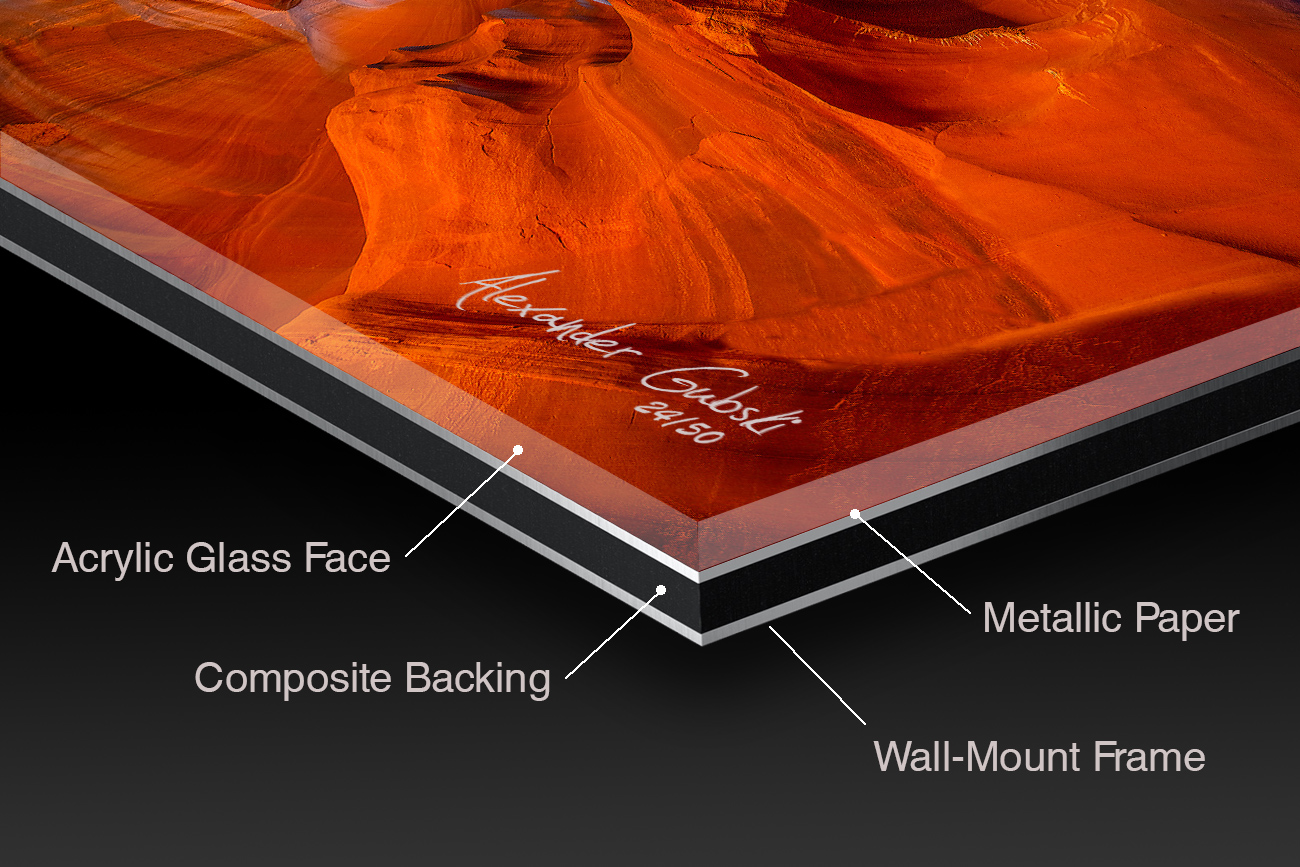 4. How are acrylic-mounted prints made?
My acrylic-mounted prints are created using the face-mounting process. This involves printing the photograph onto high-grade photo paper, then adhering it to a sheet of acrylic. This not only enhances the image's colours but also provides an impressive visual depth for the image.
5. What sizes are available for acrylic-mounted prints?
My acrylic-mounted prints are available in various sizes, ranging from small desk sizes to large wall display formats. You can view all size options on each individual product page, where you can adjust the size with a one-inch increment. I offer further customizations, like cropping and colour adjustments for the perfect fit to your display conditions.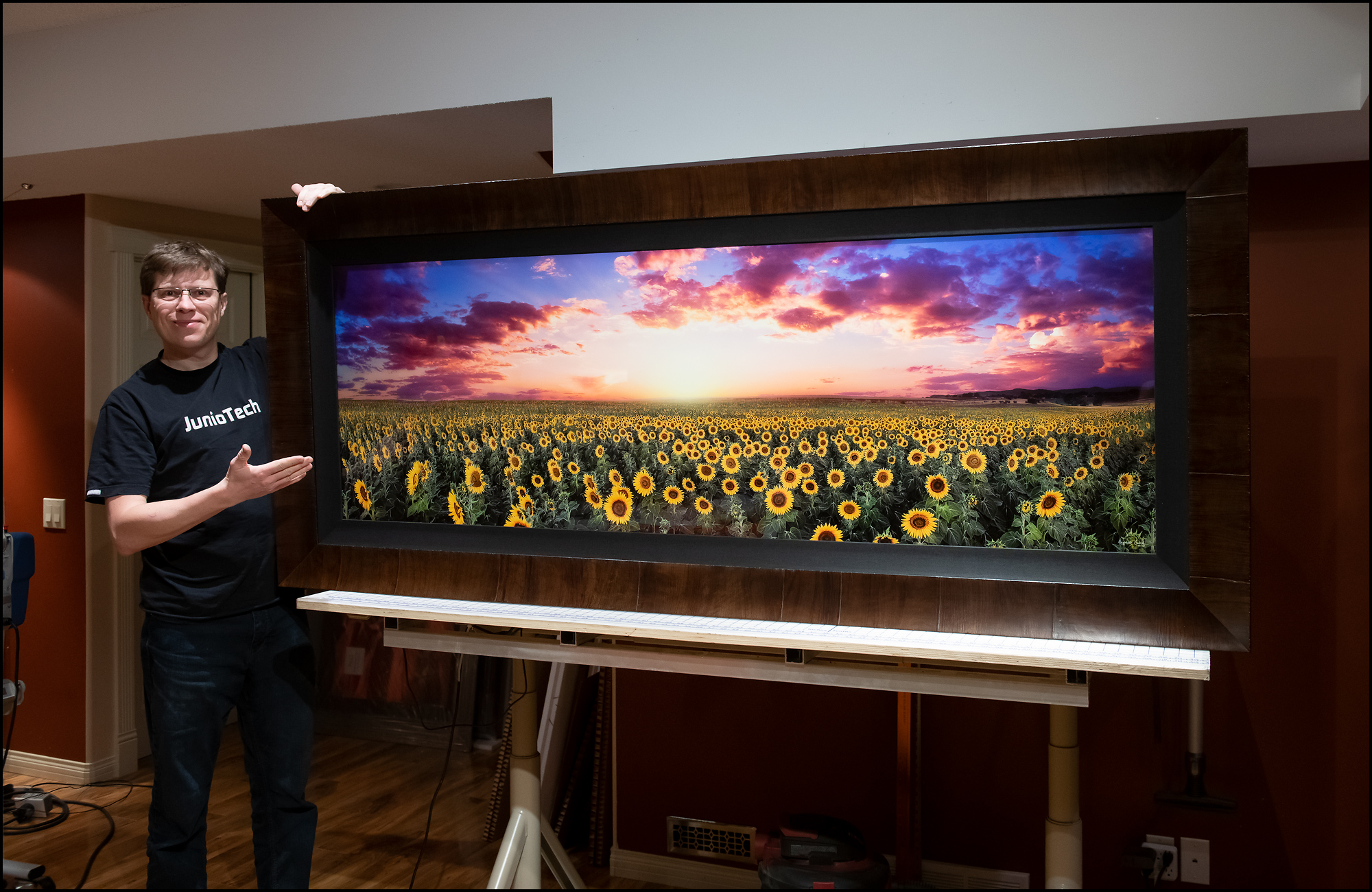 6. What is the largest size print I can order?
The largest size available for our prints, including our acrylic-mounted prints, is 44″ on the short side and 95″ on the long side. This grand format is perfect for creating a statement piece in large spaces or for showcasing intricate details in high-resolution photographs. For the framed images the size limits are 60″ on the short side and 110″ on the long side. If you need even larger frameless options I can offer you a paneled combo that you can display close together for a seamless look or with gaps between panels.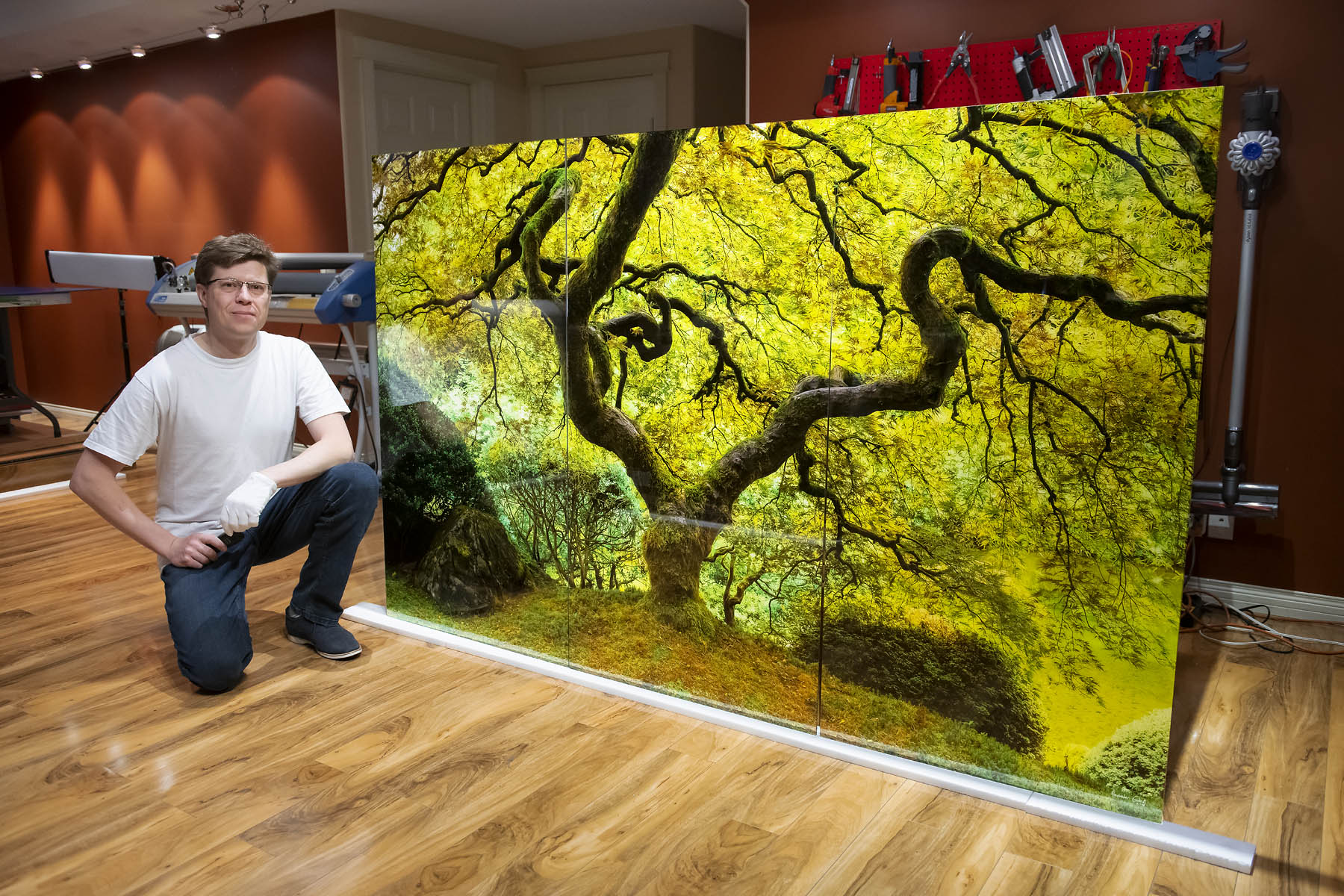 7. How should I care for my acrylic-mounted print?
Acrylic-mounted prints should be handled with care. Use a soft, dry cloth to gently wipe away dust or smudges. I usually recommend microfiber clothes that were not laying around collecting dust. Never use harsh chemicals or abrasive materials to clean your print, as they can damage the acrylic surface. I send my prints covered in protective film to protect them from smudges during the installation process. Once uncovered always lift the print by the edges to avoid fingerprints on the clear viewing surface.
8. How is my acrylic-mounted print shipped?
I ship each acrylic-mounted print in protective packaging designed to prevent any damage during transport. My shipping methods include reliable tracking so you can monitor your package until it arrives.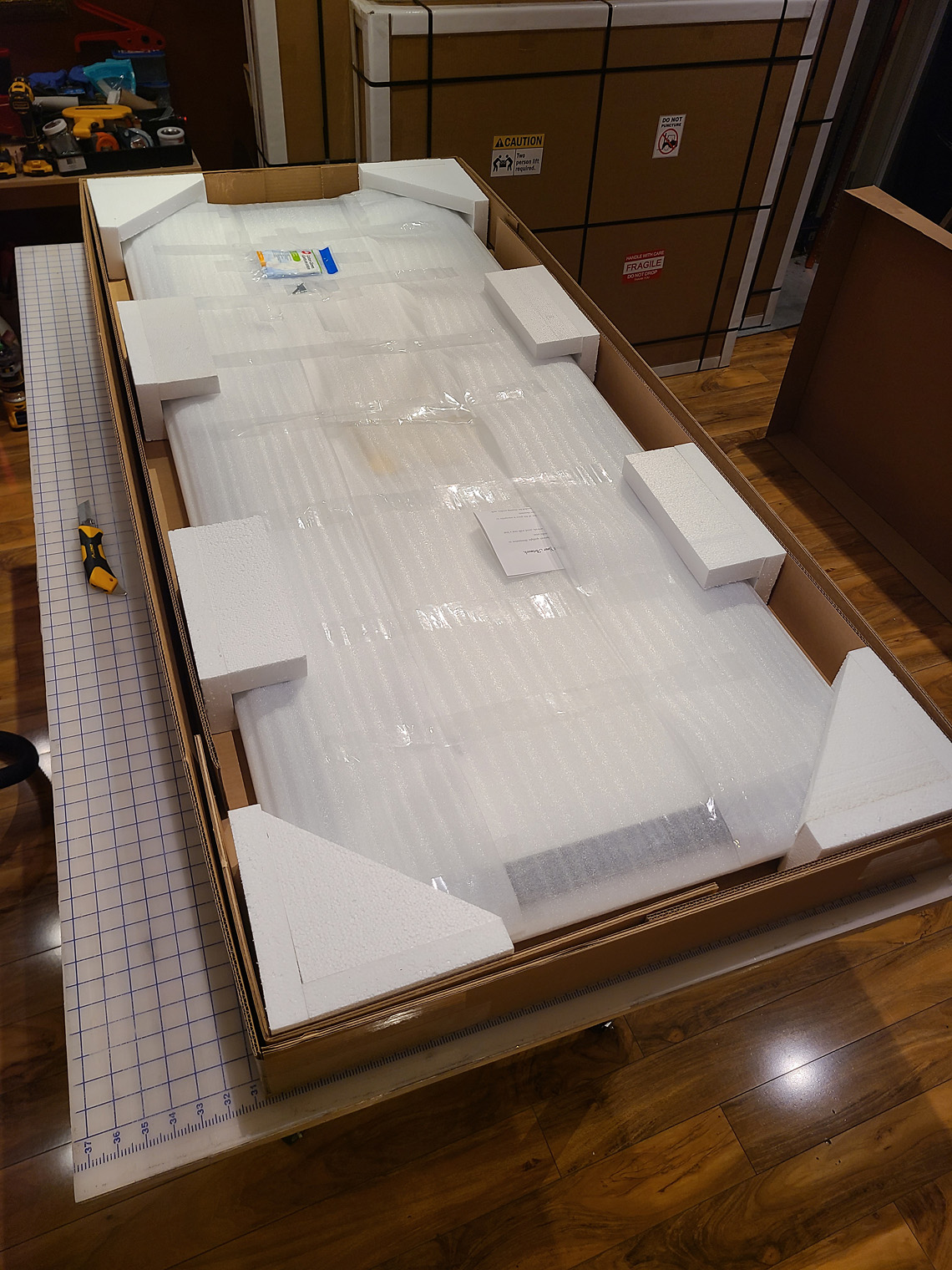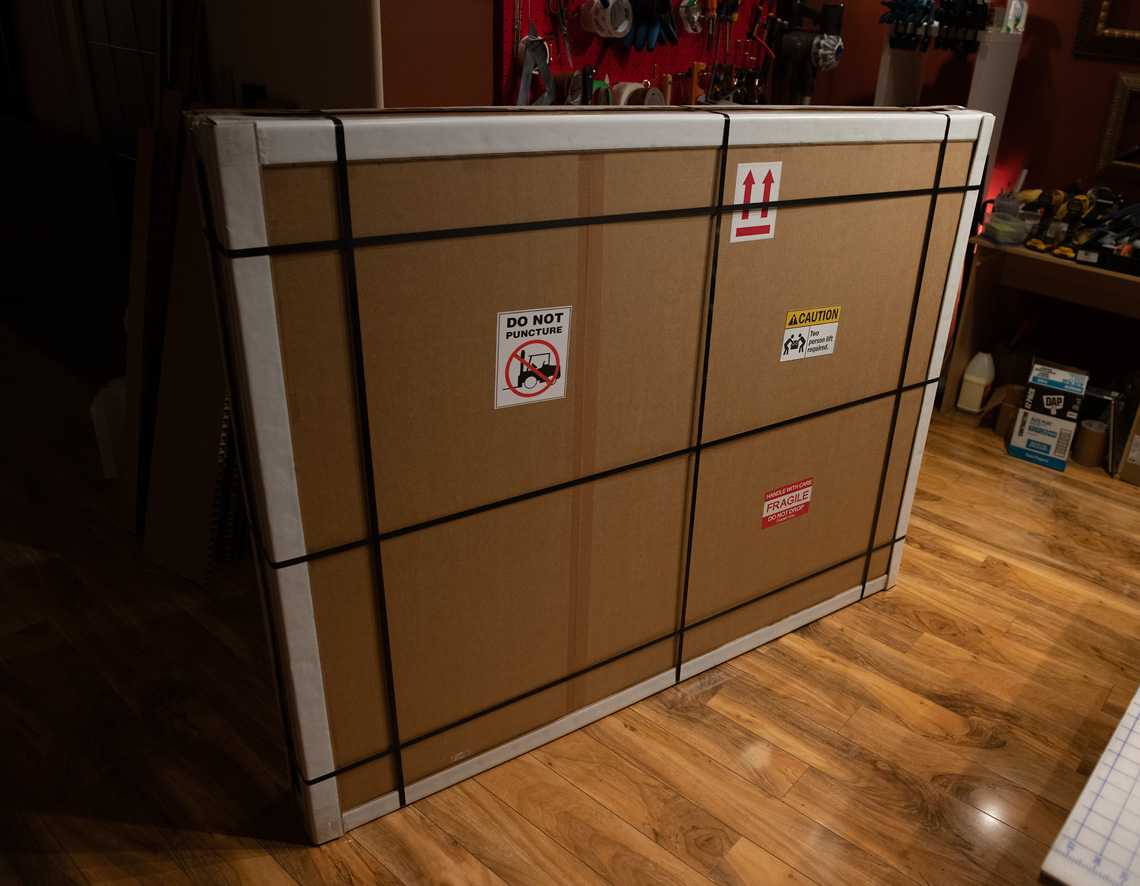 9. Can I return or exchange my acrylic-mounted print?
I want you to be completely satisfied with your purchase. If your print arrives damaged or if you are unhappy with the product for any other reason, please contact me immediately so I can address the issue.
10. Can you print and acrylic-mount the image that the client supplies?
Absolutely! Please reach out to me via my contact page, providing as many details as possible about your desired custom print. I'll work with you to create the perfect piece for your space.
11. How can I place an order?
Placing an order on our website is simple and secure. Browse my gallery and select your preferred piece, size, and format. Once you made your choice, add the item to your cart and proceed to checkout. I accept a variety of payment methods including credit cards (Visa, MasterCard, American Express), PayPal, wire transfers, and checks. During checkout, choose your preferred payment method and follow the prompts to complete your purchase. If you have any issues during the process, please contact me for assistance.
12. How long will it take for my acrylic-mounted print to arrive?
Typically, production of your print takes about 3-5 business days depending on my workload, and shipping times vary based on your location. I accommodate rush orders for an additional fee. For international orders, customs and import duties may delay delivery.
13. What if my print arrives damaged?
This happens very rarely. While I take utmost care in packaging and shipping my prints, there can sometimes be unforeseen incidents in transit. If your print arrives damaged, please contact me immediately. I ask that you take photographs of the damage, including the packaging, and email them to me. I will review the situation promptly and arrange for a replacement or a refund as per your preference. Your satisfaction is my highest priority, so rest assured I will do everything I can to rectify the situation.