Is FujiFlex an Ultimate Photo Paper?
In this article, I will discuss the latest technologies used for fine art printing and go over the advantages and disadvantages of each medium. The FujiFlex and Fuji Crystal are the very frequently mentioned brand names of fine art paper that are used by many prominent photographers. One of the promoters of the technique was Peter Lik that popularised luxury photography. His works have raised many questions about the light performance of the finished prints. Why do the prints appear backlit? What makes them behave that way?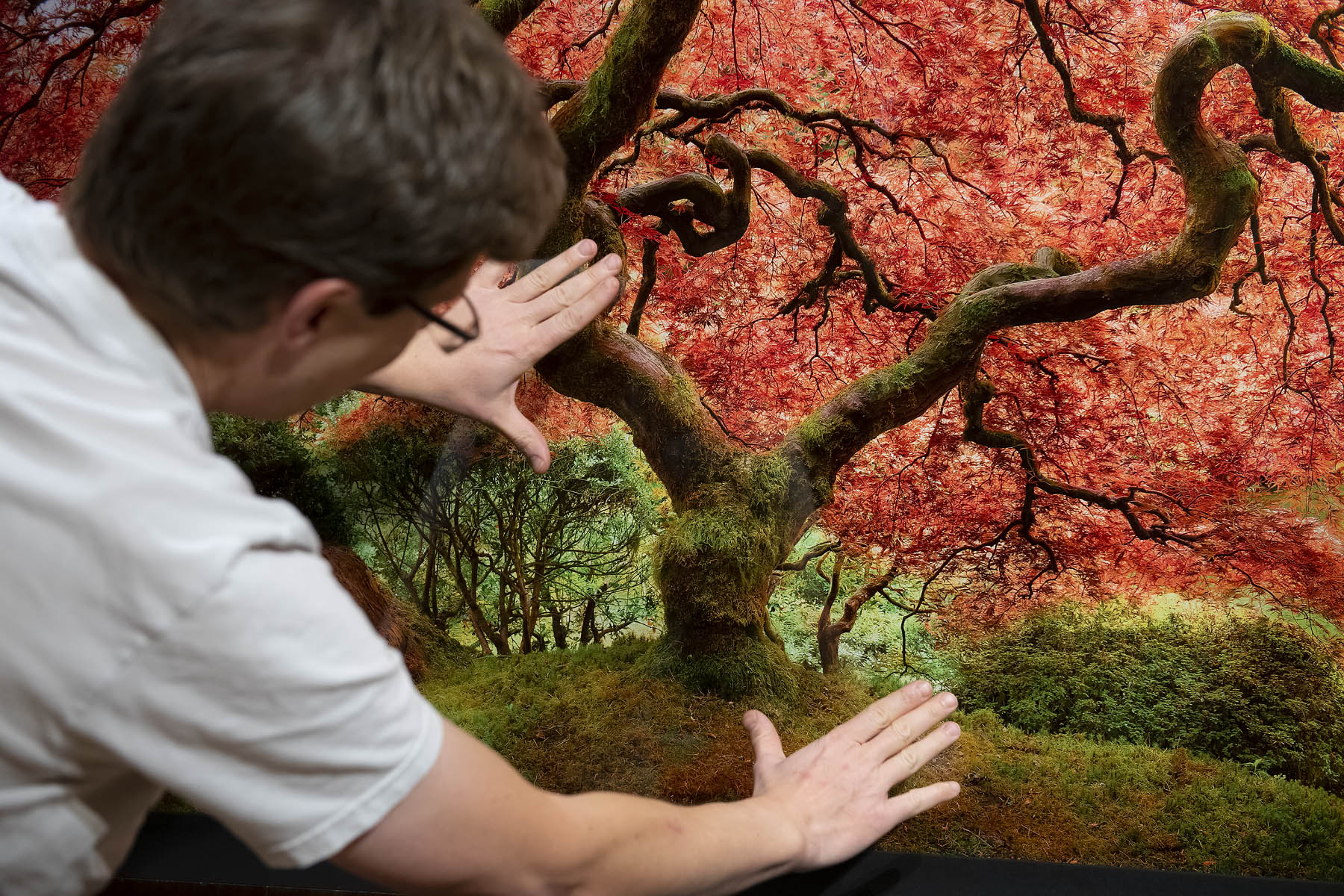 FujiFlex and Fuji Crystal Silver Halide papers
The silver halide photo technology is several decades old. Therefore probably everyone has a relationship with it for many years when we order color prints from a local print-shop. The technique involved the projection of the color negative onto the unexposed photographic paper. Once exposed the print has to go through series of chemicals to develop and fix the image. Many of you, if you were interested in photography saw the photo enlarger equipment.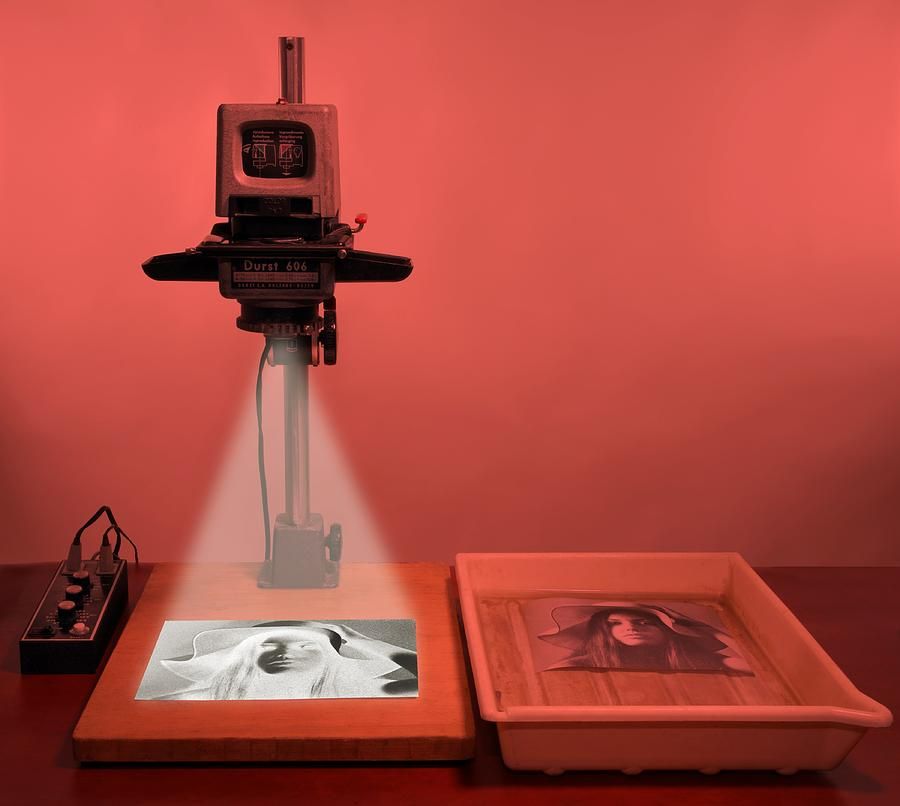 I had my share of time spent in the darkroom. And you must agree that there is a practical limitation of the print size that can be produced that way. With the invention of LightJet printers, it became possible to expose large format prints using the RGB laser beam. The machines like Lambda could produce 50″ x 120″ prints. After the exposure, the print still has to be treated using a wet chemical process where the print is being plunged into various chemical solutions.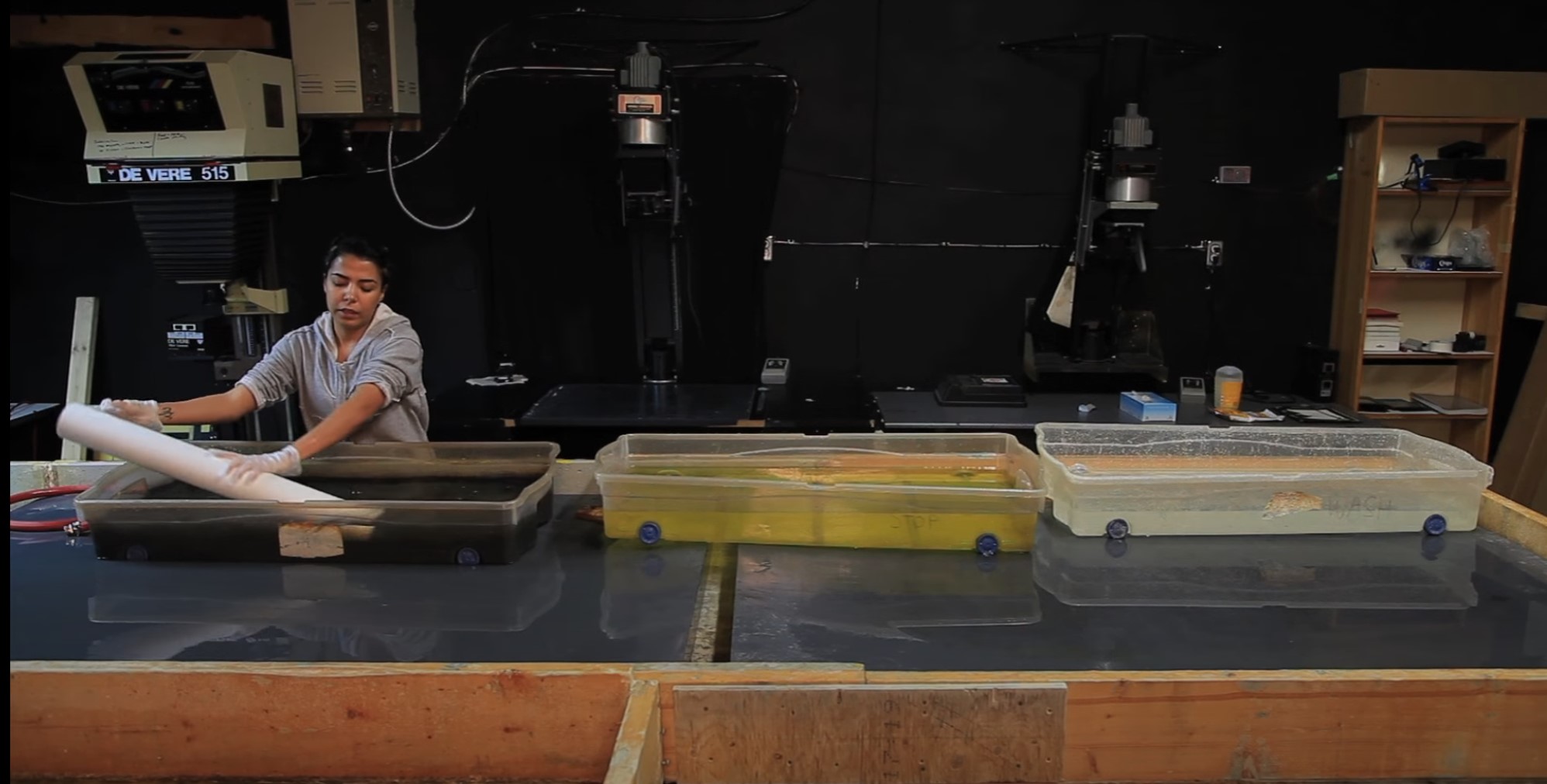 These machines are also called "continuous tone" or C-Type printers in comparison to pixel dot inkJet printers. Most continuous tone printers deliver a final product printed on Fujifilm Crystal Archive or Kodak Endura paper in sizes up to at least 4×10 feet.
What about Ink-Jet technology?
For many years the Ink-Jet was a swear word among professional photographers. The first ink-Jet printers were lacking in resolution, color accuracy, and longevity. All that started to change with the introduction of pigment ink. Printing resolution and color accuracy have come close and many producers claim that it has surpassed that of a chemical process. These days it becomes really hard to find a pro printing shop that still uses a wide-format chemical process. Just because of the costs associated with maintaining heavy machines like the LightJet printer. And the need to maintain consistency of chemicals in day-to-day operation. Modern inkjet machines can produce prints up to 60″ wide on a very wide selection of fine-art papers. Modern inkjet metallic papers rival the performance of silver halide traditional photopapers.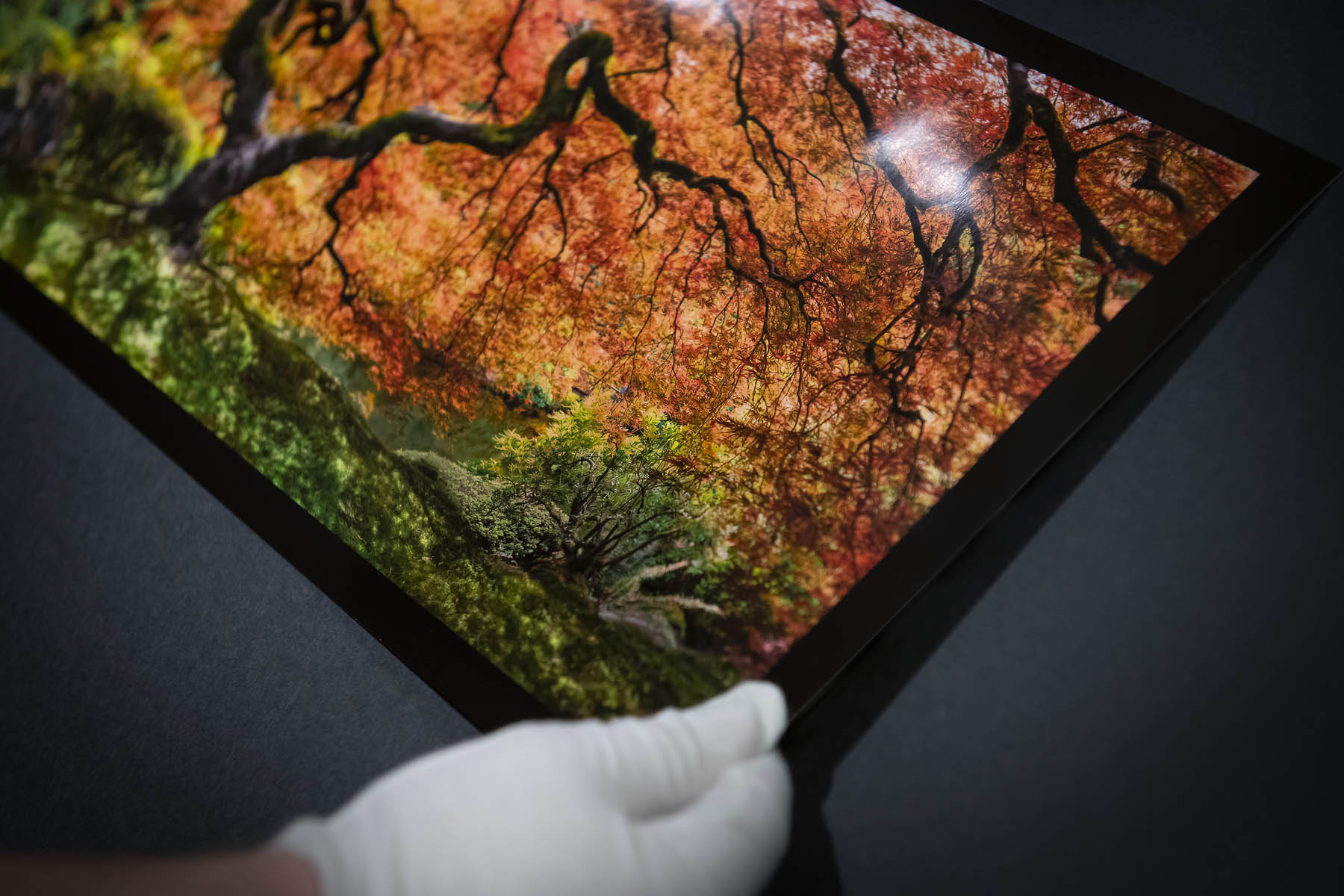 While C-Type printers can offer you a traditional gloss or matt finish. Inkjet fine art media include Gloss, Satin, Matte, Perl, Metallic, Fibre, Velvet, Photorag, Etched, Fiber-based, Resin-coated, various canvases, and many other varieties.
How about the look? Are C-Type prints superior to pigment prints? Let's do some visual comparison.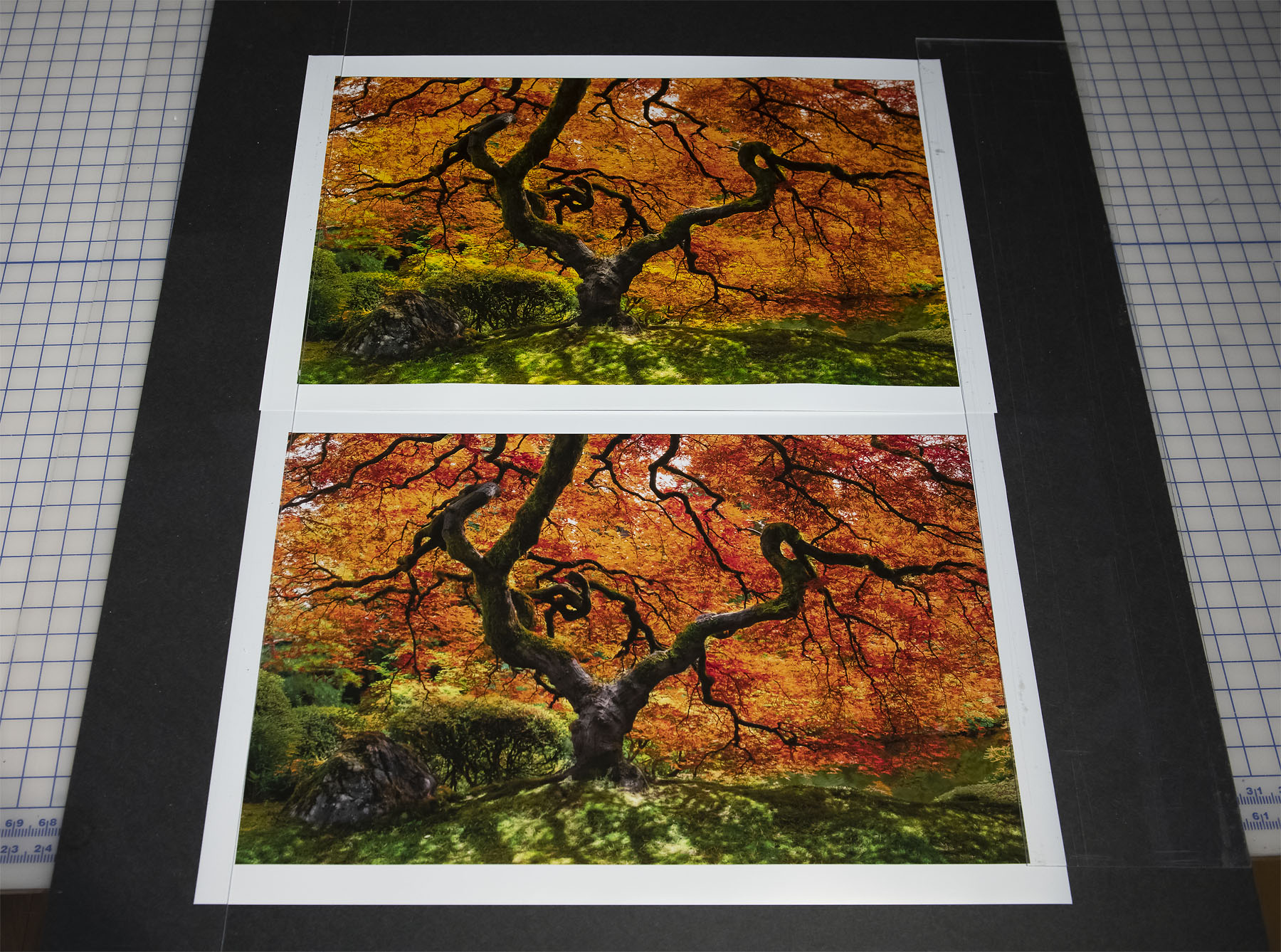 In terms of surface properties, you can easily identify C-Type prints for their slick glossy surface. This difference disappears when prints are mounted on acrylic. When you look at color accuracy and vibrance, there is really no difference as you can see from the side-by-side comparison above. On the image above you can see FujiFlex C-Type print on top and pigment ink on metallic paper on the bottom.
How Long Will My Print Last?
Some of the recent longevity numbers indicate that chemically processed C-Type doesn't last as long as modern pigment ink prints. Professional high-quality pigment prints also have one advantage. If you know what printer, ink, and paper are used you are virtually guaranteed that you are getting an archival product. A digital C Print depends on how well the equipment to process the print is maintained and the freshness and type of chemistry.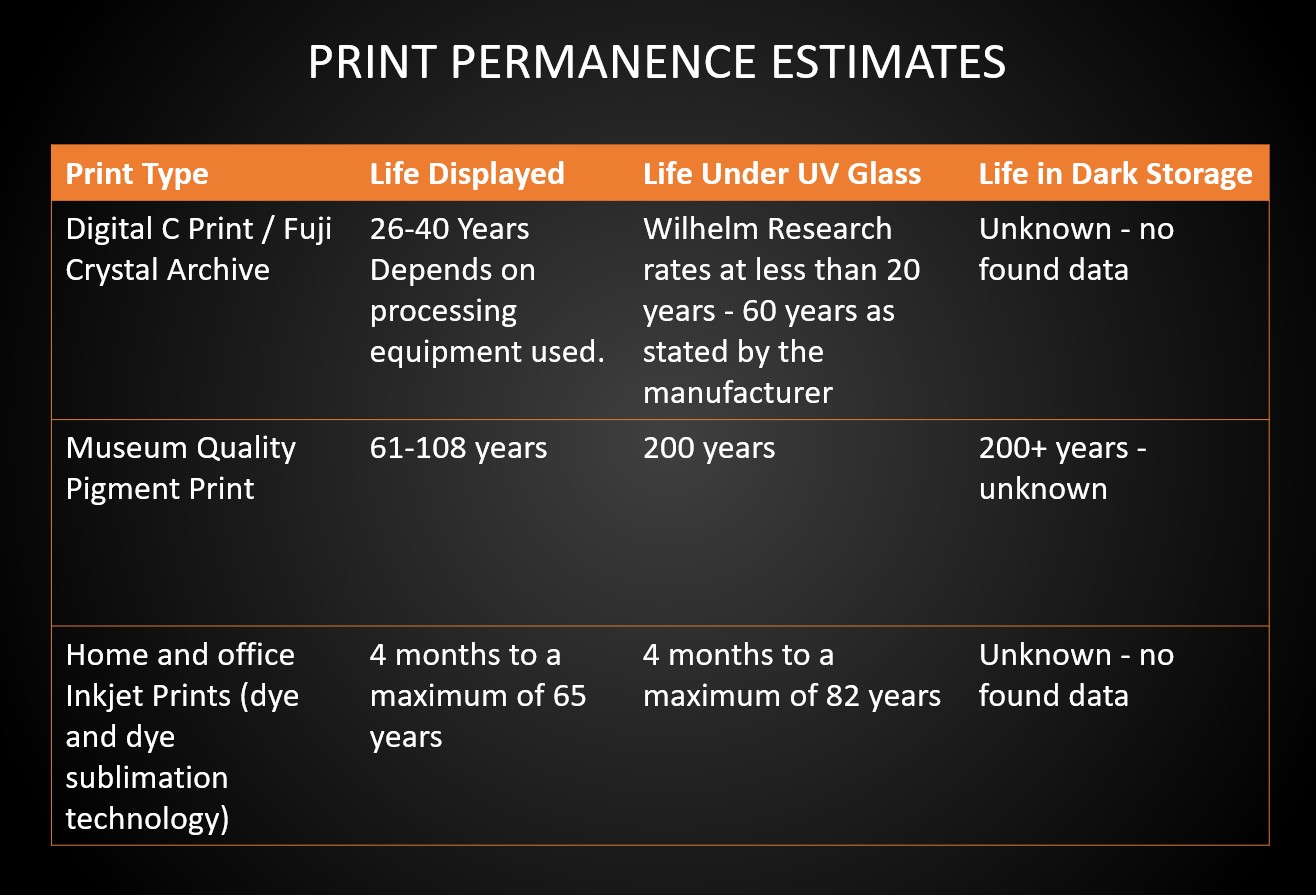 Of course, print permanence greatly depends on the display conditions. Perception of color by the observer. Amount of light the print will see. And many other things from environmental conditions to the freshness of chemicals used in the development process.
I will amend this article with more comparative photos. Showing you both types of prints side by side. Lightfastness tests, and in the meantime, I hope you have learned something new.
Sources
Wilhelm Research, The Permanence, and care of analog and digital photographs – FotoCoservacion 2011, June 20-23, 2011
Deterioration risk as determined by the University of Illinois, https://psap.library.illinois.edu/collection-id-guide/photoprint
Wilhelm Research – HP Indigo Digital Presses – Print and Photobook Page Permanence
A Survey of Print Permanence in 4×6-Inch Consumer Digital Print Market 2004-2007,
Kodak Endura Photopaper datasheet.
Kodak uses different permanence testing standards than Wilhelm Research
ftp://ftp.hp.com/pub/printers/HP_Exstream/Shutterfly_4AA0-1195ENWrr.pdf, https://globenewswire.com/news-release/2017/08/16/1086575/0/en/HP-wins-five-year-Shutterfly-deal-accelerates-digital-print-momentum.html
NON-AFFILIATION DISCLAIMER
Alexander Gubski Photography is an independent business. Alexander Gubski is not affiliated, associated, authorized, endorsed by, or in any way officially connected with the owners of respective brands mentioned on this website. As well as with any of their subsidiaries or their affiliates.
All brand names, as well as any related names, marks, emblems, and images, are registered trademarks of their respective owners.