Top Maui Art Galleries
Maui, the picturesque island paradise nestled in the heart of the Hawaiian archipelago, is renowned for its stunning natural beauty, diverse culture, and vibrant arts scene. With a rich artistic heritage influenced by the island's unique landscapes, history, and multiculturalism, Maui offers an array of world-class art galleries that captivate visitors with their exceptional collections. In this article, I'd like to offer you a complete catalogue of top Maui art galleries, where art enthusiasts can immerse themselves in a tapestry of creative expression.
Hui No'eau Visual Arts Center
Nestled in the picturesque Upcountry region of Maui, the Hui No'eau Visual Arts Center is a captivating hub for artistic exploration and education. This historic plantation-era estate has been transformed into an exquisite gallery space that showcases an eclectic mix of contemporary and traditional art. Through its diverse exhibitions, workshops, and events, the Hui No'eau fosters creativity and artistic growth, making it a vibrant destination for both artists and visitors.
Village Galleries at Lahaina
Located in the charming town of Lahaina, the Village Galleries is a must-visit destination for art lovers. This gallery features an impressive collection of fine art, showcasing the works of renowned local and international artists. With its emphasis on capturing the essence of Maui's natural beauty and cultural heritage, the Village Galleries offers a captivating journey through stunning landscapes and seascapes. Visitors are greeted by a welcoming ambiance and knowledgeable staff, ensuring an immersive experience in exploring the diverse artistic traditions of the island.
Schaefer International Gallery
Situated within the Maui Arts & Cultural Center in Kahului, the Schaefer International Gallery is a premier venue for contemporary art exhibitions. Showcasing the works of established and emerging artists from around the world, the gallery presents a dynamic range of art forms, including paintings, sculptures, photography, and multimedia installations. With its commitment to promoting cultural exchange and artistic dialogue, the Schaefer International Gallery provides visitors with a captivating glimpse into the global art scene.
Turnbull Fine Art Gallery
Tucked away in the historic town of Makawao, the Turnbull Fine Art Gallery is a hidden gem that showcases the works of local and internationally acclaimed artists. Renowned for its diverse collection of contemporary and traditional art, including vibrant paintings, intricate ceramics, and awe-inspiring sculptures, the gallery highlights the cultural heritage of Maui while supporting local talent. A visit to the Turnbull Fine Art Gallery offers a unique and enriching experience for art enthusiasts seeking exceptional craftsmanship and cultural significance.
Maui Hands
With multiple locations across the island, Maui Hands is a network of galleries celebrating the diversity of Maui's arts and crafts. These galleries feature an extensive collection of locally made artworks, including paintings, sculptures, jewelry, and ceramics. Maui Hands serves as a platform for local artists to showcase their talents and connect with a wide audience of visitors. From traditional Hawaiian art to modern interpretations, Maui Hands offers a kaleidoscope of artistic expressions that reflect the island's vibrant culture.
Lahaina Galleries
Founded in 1976, Lahaina Galleries is one of the oldest and most esteemed art galleries in Maui. With locations in both Lahaina and Wailea, the gallery specializes in contemporary fine art, showcasing a diverse range of styles and mediums. From impressionistic landscapes to abstract sculptures, Lahaina Galleries represents an array of internationally recognized artists who skillfully capture the essence of Maui's natural beauty and cultural traditions. The gallery's knowledgeable staff and welcoming atmosphere create an engaging environment for art enthusiasts and collectors alike.
Andrew Shoemaker Photography
Andrew Shoemaker is a fine art photographer based in Maui, Hawaii. He's world-renowned for nature photography of all types including landscapes, beaches, sunsets, forest scenery, international location-specific photography and more. Being that he lives on the Island of Maui, he has quick access to some of the most beautiful locations on the Valley Isle and throughout the Hawaiian Islands. The gallery can be found here.
Pueo Art Gallery
Pueo Art Gallery specializes in locally themed photography and fine art and is located at 96 Hana Hwy (across from Flatbread) here on Maui's north shore in Paia. The gallery is location can be found here.
Paia Contemporary Gallery
Originally established in 2007 and located on the North Shore, now as an online Maui Art Gallery Hawaii focuses exclusively on mixed media artists from the abstract contemporary genre, emanating from the American abstract Expressionism. As an online abstract gallery, we continue to represent established international and Hawaii contemporary abstract artists creating abstract paintings, abstract wood sculptures, abstract ceramic sculptures and abstract glass sculptures. The link to the gallery location is here.
Turnbull Studios & Sculpture Garden
The route to Turnbull Studios and Sculpture Garden is a lush tropical drive with panoramic views of Maui. Watch for our gate sign. We're about a 15-minute drive from Wailuku. Consider making us part of your drive around Maui and bring a picnic lunch to enjoy while you're here. Come enjoy a spectacular drive on the newly paved road that leads to Turnbull Studios. The link to the gallery location is here.
Karen Lei's Gallery
Karen Lei Noland is the owner and artist-in-residence at Karen Lei's Galleries. She is often asked how it came about that she opened her signature gallery in such a remote area as Kahakuloa in the West Maui Mountains. She opened shop in 1993 on her ohana's, or family's, ranchland, in Kahakuloa. Her grandparents, of Hawaiian ancestry, lived and worked in the remote region. The link to the gallery location is here.
Curtis Wilson Cost Gallery
The Curtis Wilson Cost Gallery is located on the verdant slopes of Haleakalā, the inspiration for Mr. Cost's four decades and counting artistic career. Visits to Mr. Cost's studio showroom are now being offered. The link to the gallery location is here.
Cruiser Art Gallery
Cruiser Art is the proud creation of two long-time friends, Maui artist Darshan Zenith and Maui businessman Steve Rummel. Together they have created and perfected a unique art form that combines the best of automotive art, surfing art and Hawaiian art. Although some tend to focus on one aspect of the art (such as the make of the car, a particular surfing beach or perhaps the Hawaiian sunset), everyone agrees that Cruiser Art is definitely greater than the sum of the individual subject areas it encompasses. The link to the gallery location is here.
Randy Hufford, The Maui Gallery
Located in the heart of the island of Maui, Randy Hufford's Gallery and gift shop is a perfect stop on a visit to Maui's up-country delights, the Volcano's adventures, the farmers market, the lavender farm, the epic sightseeing of the area, the eucalyptus giants, Thompson road walk & hike and many more. The link to the gallery location is here.
Viewpoints Gallery Maui
In 1989, The Maui News called Viewpoints Gallery "a jewel in the art scene". Decades later Viewpoints has become one of the finest art galleries in the state. The discerning art lover will discover representational and contemporary works in a variety of media by Maui's finest artists and artisans. The link to the gallery location is here.
Jordanne Gallery
A unique artist-run Gallery in the heart of Makawao town.  Jordanne, a local artist-in-residence at all times, specializes in oils of Hawaiian original landscapes, seascapes and local culture. Her art depicts a memory with a story within the Hawaiian Beauty of Maui. Visit her Gallery, for this special experience, and meet Jordanne for an intimate glimpse into her world as a professional Maui, Hawaiian painter. She paints life and has daily demonstrations of her techniques. The link to the gallery location is here.
Julie Galeeva Fine Art
Julie started painting at the age of two and began to study art history at the age of 10 at the Moscow State Museum of Fine Arts. Growing up in Moscow, surrounded by masterpieces of art and architecture, art became her passion. In 1991, she graduated from the Moscow Architectural Institute with "summa cum laude" honours. Her highly individual and imaginative style is a result of blending her formal training in architecture with her natural artistic abilities and classical European schooling. She has had numerous shows in Russia, and many others worldwide, including London, various European countries, Japan, and the UAE. Since January 2000, Julie has resided and worked on Maui. Her paintings are meticulous in detail and follow the best artistic traditions. The link to the gallery location is here.
Sherri Reeve Gallery & Gifts
Born in 1963 in California, Sherri Reeve moved to Oahu when she was just six.  Stories of her childhood in Hawaii show glimpses of the leading watercolour artist she would soon become.  Very early on, the lush colours of the islands had a profound influence on this artist in the making.  When given the opportunity to decorate her room, her colours of choice were shades of teal, hot pink, persimmons, and yellow, colours that so often prevail in her artwork to this day. The link to the gallery location is here.
Bill Wyland Galleries
Whether your taste in fine art runs from the latest Wyland originals to museum-quality limited edition wall art or sculpture, Wyland has personally curated this online collection for you. Check back often for new featured items to add to your collection. The link to the gallery location is here.
Daryl Millard Gallery
Daryl Millard was born in Melbourne, Australia in 1964, he has been a professional artist for over thirty-five years. Daryl moved to Lahaina, Maui in 2009 where he currently lives with his family. He paints the natural Hawaiian world around him with a palette that evokes memories of "Old Hawaii" with every brush stroke. Through his artistry, the spirit and beauty of classic Hawaii live in each of his landscapes. Daryl's incomparable paintings portray the indefinable romance of the Islands. The link to the gallery location is here.
DeRubeis Fine Art of Metal
DeRubeis' paintings bring to you the world of celestial abstraction that captures coloured-soaked light which appears to spring from De Rubeis' art. With his soft lines, he weaves together forms of metal sculpture and paints to make his composition flow in harmony.
Each work is a unique original as DeRubeis uses structures and waves of light to build weightless, diaphanous forms. Colours flow seamlessly from one hue to the next, while the transparency of his layers of paint creates the illusion of incredible depth. The link to the gallery location is here.
Harte International Galleries
Many people think our amazing art gallery is a museum. Filled with art from Picasso, Chagall, Miro, Matisse, Salvador Dalí, Rembrandt, and Albrecht Dürer it is the only gallery in the world to carry the art of two-time Academy Award-winning actor, Sir Anthony Hopkins. The link to the gallery location is here. The link to the gallery location is here.
Holle Fine Art Gallery
Holle Fine Art Gallery on Lahaina's world-famous Front Street.  Representing Dr. Seuss, Steve Barton, Paul Lotz, Michael Flohr, Romero Britto and other world-class artists. The link to the gallery location is here. The link to the gallery location is here.
Gallery of paintings by Peruvian self-taught artist, Rafael Perada. Specializing in ocean artwork. The link to the gallery location is here.
Kai Put Artist Studio
Kai Pua is a glass shop on Maui that offers live glass blowing or lampworking, Maui glass art, Original oil paintings of tropical flowers, and ocean jewelry. The link to the gallery location is here.
Kingwell Island Art
Maui Artist Jim Kingwell captures the spirit and character of Lahaina in his paintings. Jim has been painting in oil and watercolour for over 30 years, throughout the United States, Europe and South America. He calls his style "Romantic Realism" and his gallery includes a wide variety of his paintings, especially paintings of places on Maui including Lahaina, Kapalua, and Kaanapali. He also paints neighbouring islands. The link to the gallery location is here.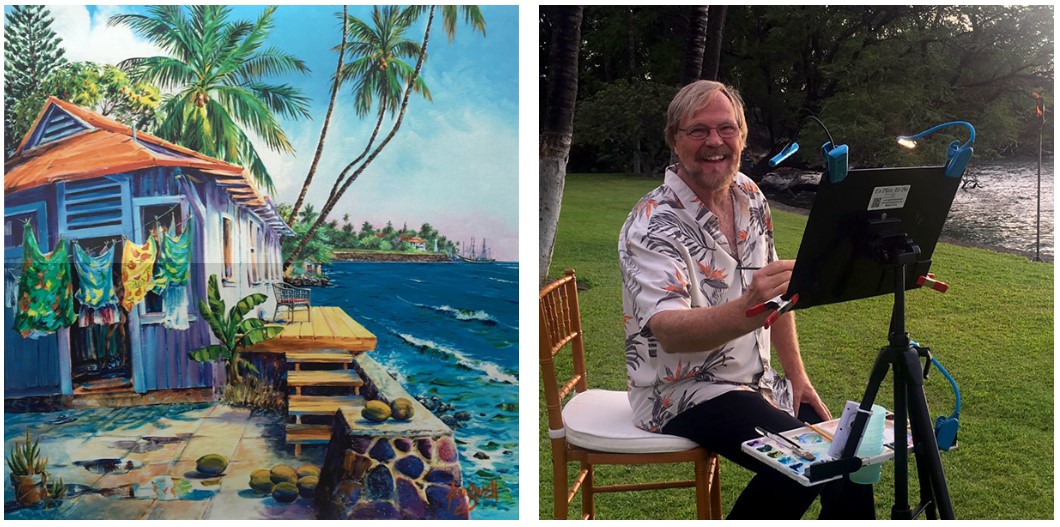 Kush Fine Art Gallery
Kush Fine Art Galleries embark you on a Metaphorical Voyage into a world of the unknown, to a place where you only have to start noticing around you, and the miracle of connection is everywhere! Kush Fine Art is one of a kind art gallery in the industry of fine art, featuring a unique collection of original paintings, limited edition prints, drawings, unique jewelry, art books, and bronze and silver sculptures. The gallery can be found here.
Lahaina Arts Society
Long-running art gallery in a former courthouse with works from local artists in a range of media. The gallery can be found here.
Lahaina Printsellers
Lahaina Printsellers has been established in Maui for over 40 years. We have one of the largest assortments of antique maps of Hawaii, The Pacific, and The World. We also carry a wide variety of Hawaii nostalgia. We reproduce some of the most influential artist's paintings of the early history of Hawaii. Lahaina Printsellers represents over 30 Maui local and international artists and photographers. They have covered every beautiful inch of Maui. Our Fine Art Photography comes available on Canvas or Dye Infused Aluminum Metal Prints. The gallery can be found here.
LIK Fine Art Lahaina
The Aloha Spirit is alive at LIK Fine Art Gallery in Lahaina, Hawaii. Home to one of his longest-running galleries, Maui has been Peter Lik's personal paradise of exploration and discovery for well over a decade. Inspiring his art galleries in Lahaina, Maui, find out why the Islands have provided so much inspiration and respite. The gallery can be found here.
Martin Lawrence Galleries
Be sure to visit our beautiful gallery located in the heart of historic old Lahaina town, right on the blue Pacific, where the Aloha spirit comes alive! Our Hawaii gallery features the finest art collection, from world-class 20th-century art to the best in contemporary and Pop art. Our enthusiasm and expertise in putting together numerous and important fine art collections all over the world are appreciated by our loyal collectors worldwide. The gallery can be found here.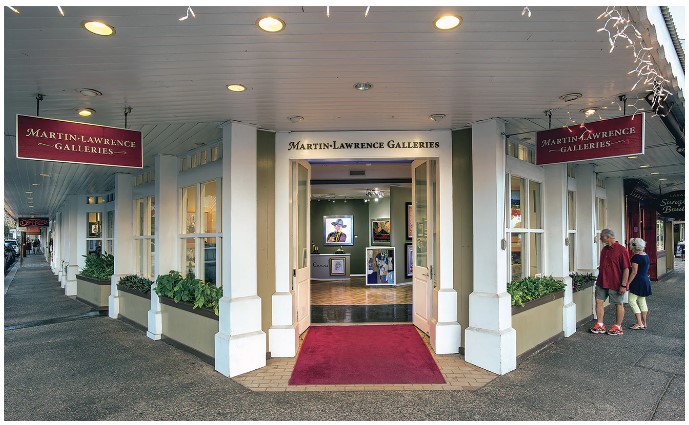 Maui on Metal
Welcome to our gallery, dedicated to the art of photography on metal.  View all the beautiful photographs from National Geographic photographer, Patrick McFeeley as well as local favourites Mark and Shayla Middleton.  Our gorgeous photographs come ready to hang as a floating mount.  They are moisture-proof, don't scratch, and are extremely fade-resistant. The gallery can be found here.
Sargent's Fine Art
Located on the beautiful island of Maui, Hawaii, Sargent's Fine Art showcases a diverse group of over 40 local and international artists. The eclectic range of media and genres makes it the most vibrant gallery in the Pacific art community. Situated side-by-side on historic Front Street in Lahaina, just across from the open sea wall, Sargent's Fine Art Gallery & Sargent's Fine Jewelry provides a unique and memorable art experience. The gallery can be found here.
Ryan Staub Gallery of Glass
For exquisite glass art creations inspired by Maui's infinite natural beauty, look no further than the Ryan Staub Gallery of Glass. Explore the myriad of fine-blown glass art and home decor pieces for sale at our new location right on the famous Front Street in Lahaina. The gallery can be found here.
Enchantress Gallery by Bootzie
Created by James Freeborne Welch and Bootzie out of our undying passion for art and expression through beauty. Featuring Maui Artists with paintings, photography, sculpture, jewelry, decor & gifts..an exciting and eclectic destination in The Shops at Wailea! The gallery can be found here.
Maui Fine Art
Chad Paranto is the owner of Maui Fine Art, as well as South Maui's Master Picture Framer. Chad started in the art business in 1994 and opened his first location in 1995. From 2003-2008, Chad's company was voted Top 100 Frame Shops in the nation by Decor Magazine for five consecutive years. The gallery can be found here.
Welzie Art Gallery
Welzie is Hawaii's premiere resin surf artist, creating unique and whimsical pieces that combine abstract expressionism and beautiful imagery. His bright colours and free-style approach are inspired by his passion for the ocean and wave riding. Welzie Art brings the aloha of Hawaii to your personal paradise. The gallery can be found here.
Cesere Brothers Photography
Cesare Brothers specialize in Fine Art Underwater Photography but their gallery offers a wide range of top-notch photography masterwork. You can find the gallery here.
Kim McDonald Art Gallery
Kim McDonald's work has been praised for its ability to embrace the lushness and dreamlike quality of the islands while being perfectly at home in a modern setting.  Kim's pieces add movement and colour to any environment. Whether it's a captivating canvas, archival print, or custom surfboard, Kim celebrates the vibrant colour, variety and rich Polynesian culture of Maui in every one of her pieces. Collectors rave about Kim's Paia Gallery visits as "one of the coolest things you can do on Maui!" It's a Maui must-see! You can find the gallery here.
Maui Hands
300 Artists. 4 Inviting Galleries. 1 Respected Name. Enjoy the arts during your Hawaiʻi vacation and visit our four stunning galleries on Maui in Lahaina, Makawao, Pa'ia, and Wailea, or shop online at MauiHands.com and gift yourself or a loved one a little bit of paradise. With 30-plus years representing 300 Hawaiʻi-based artists and jewellers, Maui Hands offers Original Paintings and Mixed Media; Photography and Fine Art Prints; Fine and Casual Jewelry; Niʻihau Shell Lei, Earrings, and Bracelets; Glasswork, Ceramics, and Clay Sculptures; Woodwork, Wood, and Other Sculptures; Linens, Bags, and Fiber Arts; Souvenirs; Specialty Gifts; and more!
Conclusion
Maui's art galleries serve as gateways to the island's vibrant arts scene, offering visitors a captivating blend of creativity, culture, and inspiration. Whether it's through the Hui No'eau Visual Arts Center's commitment to artistic growth or the Village Galleries' portrayal of Maui's natural splendour, each gallery presents a unique perspective on the island's artistic heritage.
The Schaefer International Gallery, Turnbull Fine Art Gallery, Maui Hands, and Lahaina Galleries further contribute to the island's rich tapestry of artistic expression. So, embark on an artistic adventure and explore these top Maui art galleries, where the beauty of Maui's landscapes is vividly brought to life through the eyes and hands of talented artists.