Looking for art on Fine Art America?
Fine Art America is one of the most popular sources of art-related merchandise. The online store offers millions of images and thousands of options from apparel to stationery. Wall art is a large art category and you can obtain prints on a multitude of different mediums from canvasses to metal and as far as tapestries.
Shall you buy fine art from Fine Art America?
I see nothing wrong in purchasing a print from FAA although from a fine art collector's point of view there are few aspects that you should consider.
Firstly FAA doesn't offer limited edition prints. All of the art regardless of the medium is an open edition.  FAA prints on demand any of the listed titles in size and on the medium of your choice. This may be a turn-off for a serious art collector who values scarcity of the artwork.
Secondly, the mediums that you may consider upscale, like acrylic photography prints are direct ink to acrylic variety. What is the difference between this and what is offered in top fine art galleries you may ask? The detailed answer is below.
Fine art Acrylic Photography
The top names in fine art photography usually offer their work as limited edition acrylic mounted prints. This technique involves encapsulation of the fine art print between two sheets of acrylic. Sometimes various production shops use the composite board, for example, acrylic or Comatex panels as backing.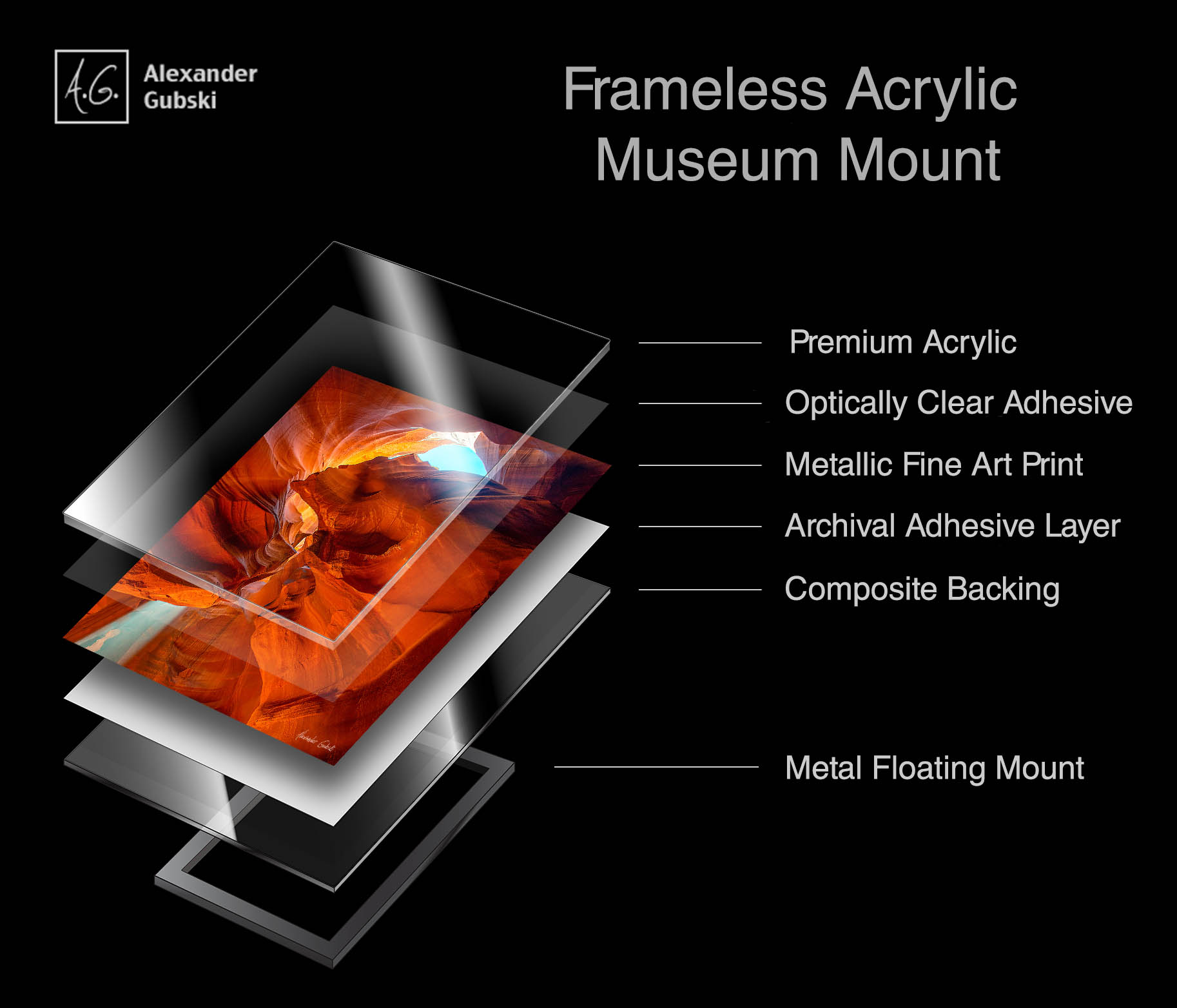 The difference between direct-to-acrylic print and acrylic mounted prints is in their light response.  Direct ink-to-acrylic print lacks that metallic property that specialized photo papers have. Top artists in the field use Fuji Silver Halide papers or iridium-infused metallic ink-jet papers to enhance the light responsiveness of their prints.
The closest thing you can find in the Fine Art America portfolio to acrylic mounted metallic prints is the direct-to-metal prints. These prints are similar to traditional dye sublimation prints that were around for a while now.  Nowadays the direct to metal print should alleviate the biggest dye sublimation problem – pigment leaching.
The Conclusion
So, having learned this you probably shouldn't expect the fantastic light response from the acrylic prints bought from Fine Art America. However, If you're after the vibrant light-responsive print you should look at the direct-to-metal option. And lastly, if you're on the market for a top of line limited edition prints my recommendation would be to purchase directly from the artist or a reputable art gallery.